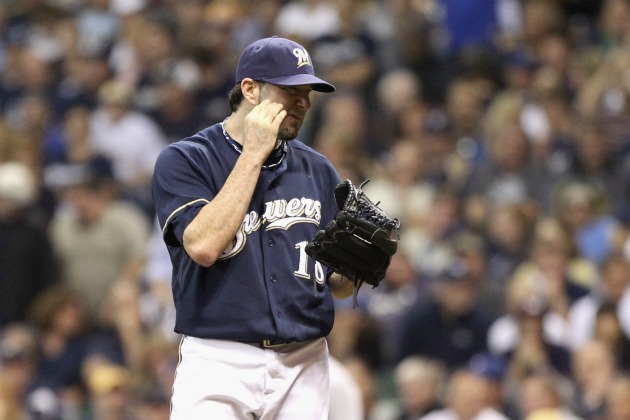 By C. Trent Rosecrans
MILWAUKEE -- Brewers manager Ron Roenicke reiterated his confidence in Shaun Marcum, his starter in Game 6, during Saturday's workout day news conference -- but that doesn't mean he doesn't have a backup plan in case Marcum's start goes south quickly.
Roenicke, of course, wouldn't share his break-glass-in-case-of-emergency plan, but it did say it would not including throwing right-hander Yovani Gallardo on short rest.
"Yo is not an option," Roenicke said Saturday. "You know, really you guys talk about Yo and coming back on three days' rest. We have to win (Sunday) and the next day. You know, I don't know why I would bring back Yo to win (Sunday) when it would hurt us then for the next day and not being able to win. I don't know if there's a difference there. I think it makes sense to keep Yo on his basic rest.
"You know, he wasn't that sharp the other day either. So to bring him back, if we had a chance if we were even up (Sunday), I would say yeah, Yo has a chance to be in our bullpen. But unfortunately we're not in that position."
As for Marcum, he said he never doubted that he'd be the choice if the series went six games.
"No, not at all. I know they had a lot of confidence in me and just talking with Ron and (pitching coach) Rick (Kranitz), and even guys in the clubhouse, you know, I think they felt that they're comfortable with me going out there, and you know, it's nice to have that kind of support."
Now it's his turn to show he can deliver and give Gallardo another chance to pitch this year.

"You know, I think I'm on the bandwagon with everybody in here, probably everybody in the country that wants to see Yo versus (Chris Carpenter) in Game 7," Marcum said. "So I'm going to try to get the ball to Yo."
Roenicke also said he would stick by struggling second baseman Rickie Weeks, who has four errors this postseason and three in this series. Weeks is also hitting just .211/.250/.421 in the NLCS.
"I think you stick with him. You know, Rickie's a guy that our lineup depends on," Roenicke said. "We depend on him swinging the bat well. He protects Prince (Fielder). He's got the ability to if you get a couple of guys on base to drive the ball out of a ballpark. And we felt like coming into the playoffs that we needed Rickie, we needed his presence in there behind Prince. And I know his swings have gotten better. But I know there's still some things that he's not locked in there, both offensively and defensively."
For more baseball news, rumors and analysis, follow @cbssportsmlb on Twitter or subscribe to the RSS feed.