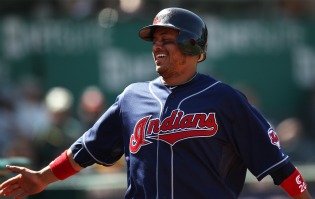 By C. Trent Rosecrans
CINCINNATI -- The worst part about being traded near the trade deadline? For new Giant Orlando Cabrera it was that he'd just paid his August rent for his place in Cleveland.
"I just handed it over, I wondered if I could get it back," Cabrera joked before his first game in a Giant uniform on Sunday at Great American Ball Park.
Seriously, Cabrera said he was worried about his pregnant wife, who will be making the three-month trip to San Francisco with him, along with his two teenage daughters.
"She's eight months, she found a great doctor that she loves," Cabrera said. "The truth is, that was my only concern."
Last night the Cabrera family started packing its place in Cleveland -- and Orlando packed his bags to get to Cincinnati. After the Indians' walk-off victory over the Royals at Progressive Field on Saturday, he saw the end of the Reds-Giants game on TV, so when he was told he was traded to the Giants, he knew exactly where he was headed.
Of course, wherever he was going he'd likely be familiar with the surroundings, but maybe few places as much as Cincinnati, where he was the Reds' shortstop in 2010.

"They asked me about him yesterday, so I thought they might get him," Reds manager Dusty Baker said. "I wish him well -- starting tomorrow."
The Giants will be Cabrera's ninth different team and seventh in the last five years. As his wife noted late Saturday night, he will now have played in every division in the baseball, with the Giants filling the NL West portion of his baseball bingo card. He started his career in the National League East with the Expos and played in Montreal from 1997-2004, before joining the Red Sox in the American League Central in 2004 in time for the team's run to the World Series title.
He signed as a free agent in the American League West with the Angels for the 2005 season, staying there three seasons, winning a Gold Glove in 2007 and reaching the playoffs twice. He was traded by the Angels to the White Sox after the 2007 season for his first stint in the American League Central before heading back to the American League West, signing with the A's before the 2009 season.
At the trade deadline in 2009, Cabrera was sent to the American League Central Twins and then signed as a free agent with the Reds in the National League Central before the 2010 season.
He doubled up with the American League Central signing as a free agent with the Indians before this season and on Saturday was traded to the Giants for minor-league outfielder Thomas Neal.
"If I get traded somewhere, it's a pretty good chance I've played for or against the team they're playing recently," Cabrera joked as he tried on a new pair of uniform pants and met new teammates.
The one constant for Cabrera has been that in all those travels, he's seemed to end up playing in October. Cabrera's played in the postseason in each of the last five seasons with five different teams. Joining the Giants seemes to guarantee him a sixth different playoff team in six years.
"I'm really proud of that," Cabrera said. "I believe that's the biggest reason I'm here."
After a 7:30 a.m. flight from Cleveland to Cincinnati, Cabrera found himself in the Giants' lineup, playing shortstop and hitting sixth. Before the game, he said he hadn't yet been told of his role, but Bruce Bochy said he'll be his everyday shortstop, replacing Miguel Tejada. In Cleveland, he had his playing time cut at second base, where the team had gone with rookie Jason Kipnis.
"The [Indians] told me they had good news and bad news -- maybe for me it was good news and good news," Cabrera said. "They ere feeling bad that I wasn't playing much. They were going to go with Kipnis every day. It's something that will work out for both [teams]."
Despite the early-morning flight, his worries about his wife and the thought of finding another place to live, Cabrera was all smiles while greeting his new teammates Sunday morning, less than 12 hours after learning he was headed to San Francisco (with a brief layover in Cincinnati).
"I'm on the 25-man roster of the world champions," Cabrera said. "That's enough for me."
For more baseball news, rumors and analysis, follow @cbssportsmlb on Twitter or subscribe to the RSS feed.