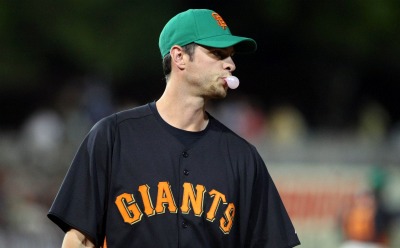 By Evan Brunell
Last season, the Giants had an elite prospect who was clearly ready for the Show and was better than any of the other options to start at his position. And yet, even though GM Brian Sabean weakly issued denials, it was obvious upon this prospect's reassignment to Triple-A that finances came into play. The club wanted to wait until late May to ensure an extra year of free agency for this heralded prospect.
On May 29, Buster Posey finally hit the majors, wrestled the starting catcher's job away from Bengie Molina and led the team to a division title, requiring the last day of the season to clinch. We all know what happened after that -- a World Series title for the club and NL Rookie of the Year award for the backstop. Given what Posey contributed, it's likely that San Francisco would have won the division by more than one game, but hey, money saved.
A similar decision is at hand this spring, although unlikely the Posey decision, Sabean seems surprisingly open to having first baseman Brandon Belt -- ranked the No. 18 prospect on CBSSports.com's Top 100 Prospects list -- open the year with the big-league squad.
"I think we're all more open-minded now because he's played a lot, and because of that, has faced front-line pitching," Sabean told the San Francisco Chronicle. "He's started a lot of games. It's not like he's coming in the second part of a game and not facing major-league pitching. With each day that he holds his own or excels, it turns your head."
Belt is currently hitting .283/.340/.522 in 46 at-bats. While spring training statistics aren't worth much, it's an encouraging line to see from the 23-year-old who mashed his way through three levels of the Giants' minor-league system in 2010.
But is it prudent to put Belt in the majors immediately? While the financial considerations of keeping Posey down last season were largely scoffed at given how much of a difference Posey could (and did) make, the same considerations aren't there for Belt. Incumbent first baseman Aubrey Huff is coming off a strong season, and while he could move to left field and bump Pat Burrell, Huff is a liability on defense. Belt himself has been playing around in left, but it's unlikely he can suddenly morph into an average fielder.
In addition, there are no shortage of candidates for two roster spots. While Belt could end up the best hitter of all, it's not clear at the outset that he can outhit Huff and Burrell. The team also has Aaron Rowand, Travis Ishikawa and Nate Schierholtz to worry about. Rowand has a hefty contract and is going nowhere, while both Ishikawa and Schierholtz have no minor-league options. The club has asked around on moving Ishikawa, but has received muted interest from other teams, while Schierholtz has drawn interest due to his defense and hitting left-handed -- the same reasons the Giants would prefer to hang onto him.
Sabean does say that the statuses of Rowand, Ishikawa and Schierholtz won't be major stumbling blocks -- rather, the decision will come down to what makes the Giants a better team.
"If Belt forces his way on, it would have to be legitimate, and we're all agreed he would be the seventh hitter," Sabean added. "The caveat is, there are high expectations and we certainly hope he'll be in a winning situation immediately. There's more pressure associated with that."
The financial considerations remain relevant, however, and Sabean's constant denials of those considerations for both Belt and Posey are odd. Also relevant is just how much better the team will be with Belt at first and Huff in left field. Will the defensive hit offset the offensive increase? That edge isn't really significant at this point, especially if Pat Burrell and/or Mark DeRosa produce.
Bet on Belt opening the year in the minors, but it won't be long before he's in San Francisco.
For more baseball news, rumors and analysis, follow @cbssportsmlb on Twitter or subscribe to the RSS feed.