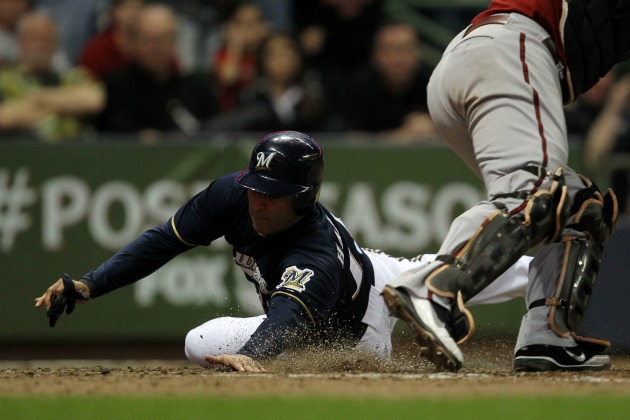 By C. Trent Rosecrans
Diamondbacks at Brewers, 9:37 p.m. ET, Chase Field, TNT
PITCHING MATCHUPS
Marcum vs. Diamondbacks: Marcum earned a no decision in his only start against the Diamondbacks this season, allowing four runs on seven hits in six innings. Every Brewer that has faced Marcum has managed a hit against him, but only Upton has more than one (2 for 6). Montero's lone hit in three at-bats against Marcum was for a homer.
Collmenter vs. Brewers: Collmenter was moved up in the rotation in part because of his success against the Brewers. In two starts against Milwaukee this season, the Brewers haven't scored on him in 14 innings. Collmenter started in back-to-back starts around the All-Star break, getting a no-decision after six innings of three-hit ball on July 6 in Milwaukee and picking up the win after allowing just three hits in eight innings at Chase Field on July 18. On the Brewers, only Fielder (2 for 5), Morgan (2 for 6) and Betancourt (1 for 3) have hits off Collmenter. All the Brewers hits off Collmenter have been singles.

NOTES
The Diamondbacks had hoped to have the roof open at Chase Field for Game 3, but there was a dust storm before the game that caused the team to close the roof. A final decision will be made later.
Left-hander Joe Saunders was the original scheduled starter for Tuesday's game, but an injury to his hand in batting practice earlier int he season pushed him back to Game 4.
While Milwaukee struggled on the road this season (32-42), the team split its four games at Chase Field.
Milwaukee is looking to win its first postseason series since the 1982 ALCS.
For more baseball news, rumors and analysis, follow @eyeonbaseball on Twitter or subscribe to the RSS feed.