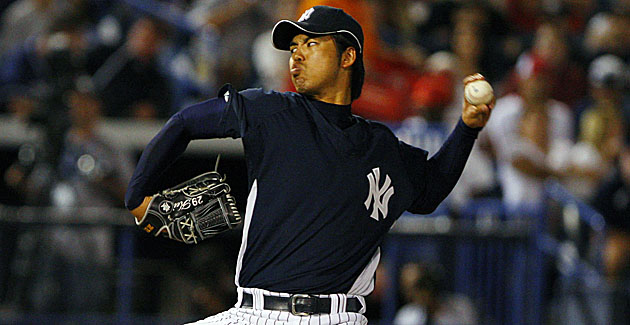 By Matt Snyder
The New York
Yankees
paid $46 million to bring Kei Igawa to America in 2007. He's been nothing short of a colossal bust since, as he compiled a 6.66 ERA and 1.76 WHIP in 16 major-league appearances. He has been in the minors since July 2008 and is not coming back. In fact, the Yankees tried to send Igawa back to Japan, but he refused. No other teams have interest in Igawa, and the Yankees have declined to release him.
Instead, Igawa and the Yankees seem to be simply riding out the contract, which does expire at the end of this season. He lives in Manhattan, yet doesn't go to Yankees games or even watch them on TV.
"I don't watch their games anymore," Igawa said (
New York Times
). "I never follow them."
He commutes from Manhattan to Scranton for his Triple-A games every single day. He's reportedly quiet and a bit of a recluse. His minor-league numbers aren't bad, but they aren't really good either. He's married with at least one child, but won't reveal how many kids he has or his wife's name. They don't come with him to America, so he spends baseball seasons alone.
The story of Igawa is interesting and a bit odd, too. It's pretty long, but a highly recommended feature in the
Sunday edition of the New York Times
.
Hat-tip: Big League Stew
TRIVIA QUESTION:
For a guy who has struck out just six batters per nine innings throughout his career, getting to 2,000 total would take quite a while. And it did. After 17 years and almost 3,000 innings,
Tim Wakefield
recorded his 2,000th strikeout Sunday in a
Red Sox
uniform (
BostonHerald.com
). He had 110 strikeouts for the
Pirates
way back in the early 1990s, so he was already over 2,000 for his career. Here's the trivia question: Only one active pitcher has more career strikeouts. Who is he? See the very last entry in this post for the answer.
JOHAN GETTING CLOSER:
Mets
ace
Johan Santana
might be ready to make a minor-league rehab start Wednesday. It would be significant because rehab stints are limited to 30 days, so Santana wouldn't be pushed into the outing unless he was less than a month away from returning to the majors. He still needs to make sure his surgically repaired left shoulder feels good when he wakes up Monday. "As of right now, it's a wait-and-see mode. We'll see how it is [Monday] and go from there," Santana said (
New York Times
). Then again, general manager Sandy Alderson reportedly believes another simulated game is the next step (
ESPN New York
).
NO MO' WILY MO:
The
Diamondbacks
released Wily Mo Pena on Sunday. The 29-year-old outfielder -- if we can call him that -- embodies the term "two true outcomes," as he hit five home runs and struck out 19 times in his 46 at-bats. He only had nine hits total and didn't take a walk. He certainly doesn't deserve a spot on the major-league roster with that kind of production, but when he gets into a pitch, it goes a
long
way. I think someone should pick him up just to put on a show in batting practice. Can't go wrong there. (
Diamondbacks official Twitter
)
QUALITY CONTROL:
As Yankees relief pitcher
Rafael Soriano
works his way back from injury on a rehab assignment, the Yankees are going to base their decision on performance, not health. "We want to see him throwing the ball well and that his stuff is back," manager Joe Girardi said. "I think that's important. So to say that if he goes back-to-back, is that all you have to see? No. We have to see the quality of the stuff more important than the back-to-back." (
MLB.com
) It might sound obvious to judge on performance, but teams don't always do that. Once a guy is healthy, he's generally returned to the majors. For example ...
WANG TO START FRIDAY:
Chien-Ming Wang
will start Friday for the
Nationals
, despite being roughed up in his last Triple-A rehab start. He allowed five runs in five innings (
Washington Post
). It will be Wang's first major-league start since July 4, 2009.
SIGNATURE SANDWICHES:
Concession company Aramark held social media voting on the best signature sandwiches at 11 MLB ballparks.
Sports and Food
has the list of winners, and it includes some pretty mouth-watering selections, which includes yet another reason to visit PNC Park.
RETREAD CITY:
Remember
Angel Berroa
? He was the 2003 AL Rookie of the Year as a member of the
Royals
. He fizzled a few years later and hasn't played in the majors since 2009. He actually wasn't even playing in the minors this season, instead playing with the independent Bridgeport Bluefish. That didn't prevent the Diamondbacks from noticing him, as they've now signed him. He will report to Triple-A Reno (
Bridgeport Bluefish official site
). This is the same ballclub that went with Wily Mo Pena,
Russell Branyan
,
Xavier Nady
, Melvin Mora,
Geoff Blum
and
Sean Burroughs
this season.
TEMPORARY RETURN:
Philip Humber
of the
White Sox
has performed so well as a starting pitcher that the White Sox felt compelled to go with a six-man rotation. Because of a rainout, however, Humber will be shifted back to the bullpen for a few games this coming week. "I'm good with it," he said (
Chicago Tribune
). "Whatever they want me to do. I've said all along, when they give me the ball, I'll do the best I can with it."
CHEESY CELEBRATION:
Terry Francona won his 1,000th game as a manager Saturday night when his Red Sox took down the
Mariners
. He celebrated by having a grilled cheese sandwich. (
Full Count
)
ON THIS DAY IN BASEBALL HISTORY:
Roger Maris homered four times in a double-header in 1961, en route to hitting a then-record 61 home runs.
TRIVIA ANSWER:
Javier Vazquez
with 2,456. (
Baseball-Reference
)
For more baseball news, rumors and analysis, follow @cbssportsmlb on Twitter or subscribe to the RSS feed.