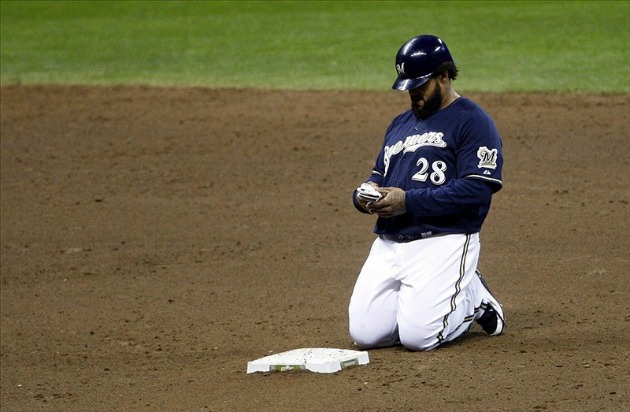 By C. Trent Rosecrans
MILWAUKEE -- For the first time since Nyjer Morgan called Albert Pujols "Alberta" in a tweet, the two men were side-by-side on the baseball field on Monday. When Morgan walked in the seventh inning, he didn't have anything to say to Pujols.
"You see my lips flapping?" Morgan said when asked about it after the Brewers' 12-3 loss in Game 2 of the NLCS. "It's the wrong time, you can't say nothing there."
The Brewers trailed 11-2 when the two finally got side-by-side, and Morgan said he was in no position to say anything to the Cardinals slugger, who had already driven in five Cardinals runs by that point.
"Wrong time, you can't do it then," Morgan said.
Is that time coming?
"Maybe," Morgan said. "Stay tuned."
As for that tweet, Morgan said it's not something he regrets.
"That's just part of it, I said what I said, let's move on," Morgan said. "If they have to take some justice out of it, so be it?"
• Morgan's tweet was after he and Chris Carpenter got into a verbal altercation on the field. I asked him if he was looking forward to facing Carpenter in Game 3: "I'm looking forward to anybody -- what are you trying to stir up?"
• With the series tied at one game each and three more games coming up in St. Louis, Monday may have been Prince Fielder's last game at Miller Park in a Brewer uniform. I asked him if he'd given any thought to that: "No," he said.
• Rickie Weeks on the bad call by first base umpire Sam Holbrook in the fifth inning that cost the Brewers at least a run: "You can't look at one call in baseball. It's one of those things. You might think the game went one play right there, but that's baseball. You can't worry about it," Weeks said. "That's just me. I thought I was safe, he called me out. He made the call. You can't go back and change it."
• Fielder on Weeks, who is playing on a bum ankle: "He's doing it right now on that ankle, it's impressive. We see it. He's tough. What he's doing, you couldn't ask anyone to do that, but he's doing it for the team and it's really awesome."
• Cardinals catcher Yadier Molina on picking up Brewers catcher Jonathan Lucroy's mask on a play at the plate in the fifth inning: "I was trying to take the mask. I don't want anybody to get hurt."
• Morgan on the Cardinals 12 runs and 17 hits: "That's all right. I think maybe they hit themselves out of the ballpark right there, they should have saved some of those."

• Cardinals manager Tony La Russa on his team's streak of winning the final game of a series, as Monday marked the 14th time in a row the Cardinals have boarded a plane as a winner: "It's kind of a neat reminder, let's finish off whatever it is, whether we're finishing off a game at home or on the road. We've won games on days we weren't traveling, either. But it's just -- you've got these grown men and they're like -- I don't think fraternity, they're too old… they're like summer campers or teenagers or maybe preteens -- they're just like kids. And it's enjoyable to listed to 'happy flight' things. Our fans were yelling when we got in the dugout, 'have a happy flight.' It's silly, but why not?"
• Jerry Hairston Jr. on Pujols: "He's pretty good, isn't he? He's arguably the best player of our generation. He's really good. It's one of those things, give him credit -- and not just Albert, but all the guys swung the bat well."
• Cardinals starter Kyle Lohse on Pujols' performance: ""hat's him, man. It's not surprising, know what I mean? It's amazing, but it's not surprising. He does the things he does. People ask me in the off-season, 'What's it like to play with him?' When he goes 1 for 3, it's like, 'Why didn't he get two more hits?'"
• Brewers manager Ron Roenicke on whether Shaun Marcum would pitch again in this series: "As far as I'm concerned, right now he's pitching again."
For more baseball news, rumors and analysis, follow @cbssportsmlb on Twitter or subscribe to the RSS feed.