By Evan Brunell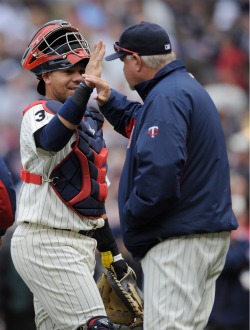 The Minnesota Twins are suddenly hot, winning nine of their last 11 games and trimming a 16 1/2 game deficit all the way down to nine.
Yeah, still a long way to go, but the Twins are adamant they are still in the hunt, and with eight players close to returning from injuries (Denard Span, Jason Kubel, Joe Mauer, Justin Morneau, Joe Nathan, Glen Perkins, Tsuyoshi Nishioka and Jim Thome), Minnesota does stand a fighting chance of pushing its 26-39 record over .500 and beyond, although it will be a hard road.
"All you want to do is come to the ballpark and feel like you have a chance, and we're coming to the ballpark with a lot of positive flow out there in the clubhouse,'' manager Ron Gardenhire told the Minneapolis Star Tribune. "It's really not a lot of different people, but it's a positive atmosphere where people are saying, 'Hey, we can do this.'
"A couple of weeks ago it was, 'How are we going to screw this one up?' That's what's changed, the atmosphere on the bench."
The atmosphere isn't the only thing to change, as Twins starters have an ERA of 1.96 since June 2, and since June 1 the much-maligned bullpen has offered up a 0.98 ERA. With their pitching looking up and their stars on the way back, things are taking a turn for the better in Minnesota, where the team has 15 home games more than road games the rest of the way to look forward to.
Gardenhire is optimistic, but he wants to make sure his returning stars -- especially Morneau, Mauer and Thome -- fit into what the team has become, rather than cause the Twins to backslide.
"The guys who are coming back are very professional guys," Gardenhire said. "My only concern is, I don't want to lose that edge, of having guys run around and put pressure on the other team. That's my biggest concern. When we get our boppers back, I want to keep that edge, of putting pressure on them and not just waiting for three-run homers. I want everybody to be a part of it.
"I really like that. I like to be able to put things on, steal, and run. That's so much fun. That's what we talked about during the winter, and you're seeing it now.''
Gardenhire understandably may not want to move away from the success that has allowed the Twins to embark on this run, but the only way they can get any better is to get those sluggers into the lineup.
For more baseball news, rumors and analysis, follow @cbssportsmlb on Twitter or subscribe to the RSS feed.