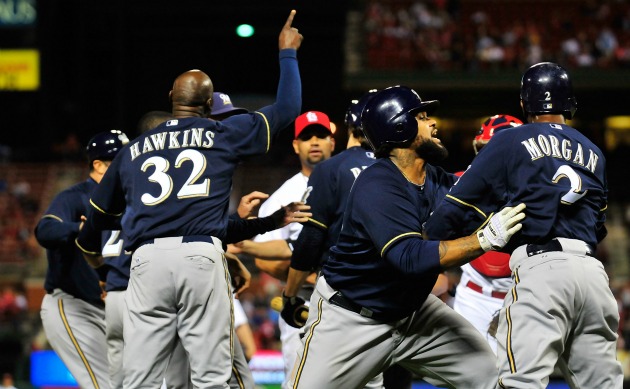 By C. Trent Rosecrans
ST. LOUIS -- Those hoping for a fight in the NLCS had the chances lowered a little bit when Brewers manager Ron Roenicke put out his lineup for Game 3 of the series with Mark Kotsay in center field and batting second instead of Nyjer Morgan.
Morgan, of course, got into a shouting match on the field last month with Cardinals' Game 3 starter, bringing the bad blood between the two teams to a boiling point. On Tuesday, Roenicke hinted that he'd be leaning toward a different center fielder for Game 3, but it was assumed it would be Carlos Gomez, not Kotsay getting the call. The stated reason was for defensive purposes.
"I always feel good when Kotsay is in the lineup -- especially when we start him, he seems to have a big day, something always good seems to happen when he's in there -- numbers matched up good," Roenicke said. "I think, too, if Nyjer had beens winging the bat well, I wouldn't have even thought about this, but I think it's the right thing to do here."
Kotay, a left-handed hitter, is 4 for 11 lifetime against Carpenter with a double and a home run. He's 0 for 5 with a walk so far this postseason, Morgan is 0 for 4 in the NLCS and 3 for 20 in the playoffs.
For more baseball news, rumors and analysis, follow @cbssportsmlb on Twitter or subscribe to the RSS feed.