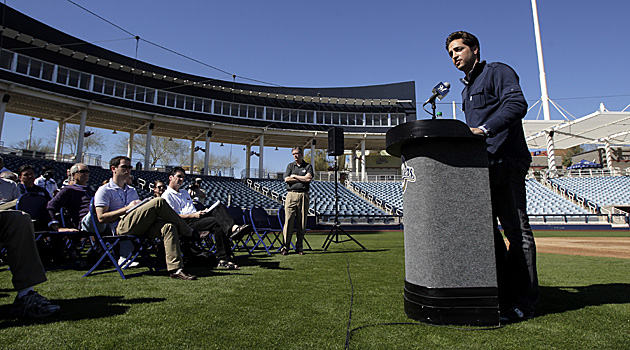 By C. Trent Rosecrans
Brewers
outfielder
Ryan Braun
came out swinging against the Major League Baseball drug testing process, the sample collector and the media in his first public statements since his positive drug test on October.
"I can only answer for myself," Braun said. "The program, as it applied to me, was fatally flawed. I've certainly been frustrated by the process. I've felt it's been unfair.
"Are there changes that should be made? I believe yes."
Major League Baseball executive vice president for labor relations Rob Manfred issued a statement disputing Braun's assertion.
"Our program is not 'fatally flawed,'" Manfred said. "Changes will be made promptly to clarify the instructions provided to collectors regarding when samples should be delivered to FedEx based on the arbitrator's decision. Neither Mr. Braun nor the MLBPA contended in the grievance that his sample had been tampered with or produced any evidence of tampering."
Braun did detail, however, not only when he was tested, but also casted doubt on the sample collector, noting there were 18 Federal Express offices were open until 9 p.m. in Milwaukee and even one 24-hour FedEx office. He said he was tested after a 1 p.m. game that ended at 4:15. Braun laid out his defense like a lawyer making his closing statement.
"At the end of the day the truth prevailed," he said. "I'm a victim of a process that completely broke down and failed in the way that it was applied to me in the case. As players, we're held to a standard of 100 percent perfection regarding the program, and everybody else associated with that program should be held to the same standard. We're a part of a process where you're 100 percent guilty until proven innocent. It's the opposite of the American judicial system.
In fact, Braun said he's considering legal action, citing possible legal action as a reason for not naming the sample collector.
He also shot down a rumor that he'd been treated for sexually transmitted disease, noting he'd never had an STD.
Braun came out swinging, said his performance had been measured -- that he didn't add a pound, he didn't become any faster. He also noted he already has a nine-year, guaranteed contract.
"I'd bet my life that this substance never entered my body," Braun said.
He also said he was unhappy that the test became public and that he has an idea how the news of his positive test leaked. ESPN reported his positive test -- which was supposed to remain confidential until the appeal was heard -- in December.
"I tried to handle the entire situation with honor, with integrity, with class, with dignity and with professionalism because that's who I am and that's how I've always lived my life," he said. "If I had done this intentionally or unintentionally, I'd be the first one to step up and I say I did it. By no means am I perfect, but if I've ever made any mistakes in my life, I've taken responsibility for my actions. I truly believe in my heart and I would bet my life that the substance never entered my body at any point."
MLB contends the leak didn't come from their end.
"With regards to the breach of confidentiality regarding this case, both the Commissioner's Office and the MLBPA have investigated the original leak of Ryan Braun's test, and we are convinced that the leak did not come from the Commissioner's Office," Manfred said in a statement.
The MLB Players Association agrees.
"Our Joint Drug Program stands as strong, as accurate and as reliable as any in sport, both before and after the Braun decision," said MLBPA executive director Michael Weiner in a statement. "The breach of confidentiality associated with this matter is unfortunate but, after investigation, we are confident that it was not caused by the Commissioner's Office, the MLBPA or anyone associated in any way with the Program. In all other respects, the appeals process worked as designed; the matter was vigorously contested and the independent and neutral arbitrator issued a decision deserving of respect by both bargaining parties."
Braun was asked about how his reputation would suffer, even after his successful appeal.
"I'm not dumb enough to pretend this is going to go away," Braun said. "I'm going to deal with this for a while. It's going to be a challenge."
"My name has been dragged through the mud as everything I've ever worked for in my life has been called into question."
Braun, who won the NL MVP after hitting .332/.397/.597 with 33 homers, 109 runs and 111 RBIs last year, is the first Major League Baseball player to have his suspension lifted by an arbitrator for a drug-related penalty. Arbitrator Shyam Das threw out Braun's ban on Thursday. Das, who has been baseball's independent arbitrator since 2000, informed the sides of his decision but did not give them a written opinion. He has 30 days to do so.
For more baseball news, rumors and analysis, follow @EyeOnBaseball on Twitter, subscribe to the RSS feed and "like" us on Facebook.