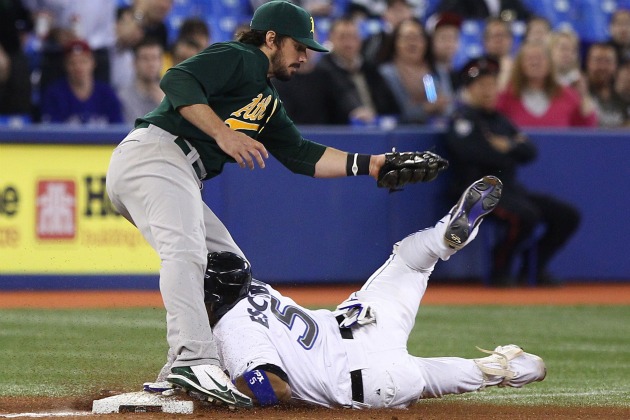 By C. Trent Rosecrans
Blue Jays
shortstop
Yunel Escobar
may be the test case for Major League Baseball's new concussion guidelines after leaving Wednesday night's game against the A's following a collision with Oakland third baseman
Adam LaRoche
.
Escobar stayed in the game after he ran into LaRoche's knee on a head-first slide into third following a fifth-inning triple. After fielding his position in the sixth, Escobar was taken out of the game because of dizziness. He was taken to a hospital for testing and stayed overnight.
Escobar convinced manager John Farrell to keep him in the game after the incident and even wanted to stay after his half-inning in the field. Still, he was at shortstop jumping up and down and shaking his head.
Farrell said the team was waiting to see how he reacted and didn't like what they saw. Diagnosing a concussion is difficult, especially when an athlete is conditioned to play through pain, so managers need to be more proactive when a head injury occurs. Farrell acted and luckily it wasn't too late.
It won't be a surprise if Escobar is the first player to wind up on the seven-day DL for concussions. MLB has stepped up to the plate in giving teams ways to properly treat concussions, now it's time for the teams to follow through and use them. [Globe and Mail]
IS TODAY THE DAY? -- Can the Red Sox actually win a game? CBSSports.com senior writer Danny Knobler joins Lauren Shehadi to discuss it.
FIRST PITCH WORTH SEEING -- The White Sox's home opener today and throwing out the first pitch will be Minnie Minoso. Minoso is anywhere from 85-91 and one of the great ambassadors of baseball. We used Baseball-Reference.com's player oracle linking franchise legends to current players and I swear a good third of them that I did included Minoso, who played his first big-league game in 1949 and his last in 1980 (although, he did manage just five games after 1964, appearing in three games in 1976 and two in 1980 in a publicity stunt). [Chicago Tribune]
LA RUSSA UPSET -- Cardinals manager Tony La Russa has found an easy scapegoat for his team's 2-4 start, the media. You'll never lose in a public opinion poll when you place yourself against the fourth estate. Baseball's king of deflection is at it early this season. [St. Louis Post-Dispatch]
GOOD SOLDIER -- Mariners second baseman Jack Wilson said he was in agreement with manager Eric Wedge's decision to pull him after two errors on Wednesday. The question is, with his contract up at the end of the season, could Wilson be traded away before the season ends to a team that needs a shortstop (St. Louis, Milwaukee, Houston?), especially with Dustin Ackley waiting to take over at second base. [Seattle Times]
BOO AWAY -- Phillies manager Charlie Manuel understands why fans booed Cole Hamels on Tuesday -- it is Philly after all. [Philly.com]
CAREER NUMBERS -- Albert Pujols and Lance Berkman have been in the National League Central long enough to have played nearly a season's worth of games against each team. The St. Louis Post-Dispatch's Derrick Goold breaks down Pujols' and Berkman's 'seasons' against NL Central opponents. The conclusion? Those two are pretty good -- and the Reds don't want to see either. Pujols' best numbers -- .372/.456/.695 with 45 HR and 134 RBI in 157 games -- are against the Pirates, and the Reds are in second place (159 games, 43 HR, 133 RBI, .356/.440/.656). Berkman's best are against the Reds, hitting 49 HR, 137 RBI and .318/.438/.678 in 152 games against Cincinnati.
SMALL BALL -- For just the second time in the nine-year history of Great American Ball Park in Cincinnati, there were two straight games without a homer on Tuesday and Wednesday. The only other time that happened was Aug. 6-7, 2005 against the Marlins. That hasn't hurt the Reds, who scored 20 runs in those two games. The Reds have scored 43 runs through the first five games, the second-best mark in their history. In 1976, Cincinnati had 44 runs through five games. That team, of course, repeated as World Series champions. The team is also 5-0 for the fifth time in history -- twice winning the World Series after such a start (1919, 1990).
JUDGE ME NOT BY MY SIZE -- The Royals' Tim Collins and the Braves' Craig Kimbrel are proving you don't need to be tall to throw hard. [MLB.com]
RATINGS UP -- The Nationals' TV ratings for their opening series against the Braves were up nearly 100 percent. [D.C. Sports Bog]
CABRERA HITS 250 -- Miguel Cabrera hit his 250th career home run on Wednesday and Tiger manager Jim Leyland said he was sure his slugger would have "250 more." It seems likely if Cabrera stays on the field. [MLive.com]
SIPP STEPS UP -- Tony Sipp has emerged as the Indians' setup man. [Akron Beacon Journal]
OPENING DAY -- Today's opening day for the minor leagues. The game to watch is in Rome, Ga., where Bryce Harper will make his professional debut for the Class A Hagerstown Suns. [Rome News-Tribune]
HALL OF FAME PIG -- Ryne Sandberg, the new manager of the Lehigh Valley IronPigs is comfortable in his new job with the Phillies' Triple-A affiliate. [Allentown Morning-Call]
RALLY CAP -- The Altoona Curve is the first professional team to feature a reversible cap with a design in the lining to make a rally cap. The inside features a lining depicting the team's "rally mascot" Al Tuna. It's a pair of googly eyes, representing the head of the fish mascot. [MiLB.com]
MAKE IT A DOUBLE -- The Red Sox are getting closer to being able to selling mixed drinks at Fenway Park after reaching an agreement with Boston Mayor Thomas M. Menino and other interest groups. This comes just in time, as the Red Sox are winless. [Boston Globe]
TEIXEIRA LAUNCHES DREAM TEAM -- Yankees first baseman Mark Teixeira donated $1 million to the Harlem RBI program. [MLB..com]
SHEPARD DIES -- Larry Shepard, the former Pirates manager and pitching coach for the Big Red Machine, died on Tuesday. He was 92. Shepard managed the Pirates in 1968 and 1969 and was the Reds' pitching coach from 1970-78. He also served as the pitching coach for the Phillies and Giants. [Associated Press]
RETURN TO MONTREAL -- The Blue Jays are considering playing exhibition games in Montreal and other Canadian cities. [MLB.com]
A REAL CLASSIC -- "Take Me Out to the Ballgame" will be preserved at the Library of Congress along with 24 other recordings chosen for their cultural significance. [Associated Press]
10 YEARS OF PNC -- One of the best ballparks in Major League Baseball turns 10 this year, as the Pirates start their home opener on a roll, winner of their first two series. Even 10 years old, the $270 million stadium is still one of the best in baseball, even if its tenants haven't been. [Pittsburgh Tribune-Review]
MLB.COM Q&A -- The boss over at MLB.com talks about technology and baseball [All Things Digital]
For more baseball news, rumors and analysis, follow @cbssportsmlb on Twitter or subscribe to the RSS feed.