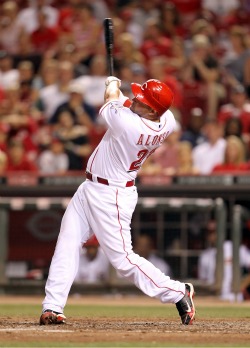 By C. Trent Rosecrans
The moment Yonder Alonso was drafted by the Reds in the first round of the 2008 draft, the questions about where he'd play began. Alonso played first base at Miami and looked like he'd be limited to first base.
That's fine and good, except for when you have the reigning MVP at first base already and that player's just 27.
Last spring the Reds started trying Alonso in left field and he played 30 games there in 2010 between Double-A Carolina and Triple-A Louisville, but still played the bulk of his time at first base, logging 96 games there. This season with his bat ready for the big leagues, he was given more time in the left field, where he played 62 games in left compared to 21 at first base.
Since the left-handed hitting prospect was called up to the big leagues when Jonny Gomes was traded, he's started three games in left and none at first. The first part is going to change, the second may not.
Alonso's latest position may be third base after he struggled in two games in left at Wrigley Field this past weekend, playing one ball into an inside-the-park home run for Cubs rookie Tony Campana and then misplaying another ball for a crucial error in Saturday's loss.
When asked on Monday when Alonso would play left again, Reds manager Dusty Baker told reporters, "not in the near future," according to John Fay of the Cincinnati Enquirer.
Alonso took ground balls at third base -- his main position growing up, he's said -- but Baker said he doesn't expect Alonso there anytime soon.
"You don't want to do it in the big leagues," Baker said, according to Fay. "But that's the position he started at. It's a mirror image of first base, really. You get more plays. Most first baseman are at first because they're left-handed or they don't have the arm to play third.
"We'll see. We're trying to find the best place to get his bat in the lineup."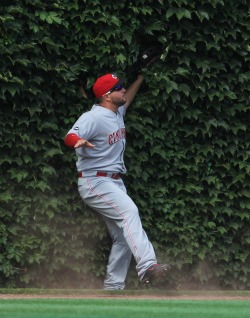 While Alonso's looked shaky in the field, he's been locked in at the plate, where he's started the season 8 for 16 with two doubles and a homer. The Reds called up another prospect, Dave Sappelt, on Sunday when Chris Heisey went on the disabled list and Sappelt will likely get a chance to play quite a bit in left and center. Sappelt had a hit leading off in his major-league debut on Sunday. Fred Lewis is starting in left on Monday.
Finding a spot for Alonso is tricky. The Reds thought he was the best hitter available when they took him with the seventh overall pick in the 2008 draft and he's shown it in the minors, where he's combined to hit .293/.370/.466. He was hitting .296/.374/.486 with 12 homers when he was called up. Although he's 4 for 7 as a pinch-hitter so far this season, going forward he's going to be too valuable for filling just that role.
The Reds and Blue Jays reportedly talked about a blockbuster sending Joey Votto to his native Toronto in exchange for Jose Bautista, opening a spot for Alonso. Although that deal didn't go down, it does show how much the team values Alonso and feels he can be an impact player in the big leagues.
Votto is under contract through 2013, so he's in the team's immediate future but could be too expensive when he reaches free agency. Alonso would be a lower-cost alternative.
Alonso could also finish the season strong and be a more valuable trade piece in the offseason because of his early success in the big leagues.
Physically, Alonso looks more like a first baseman -- or DH -- than third baseman, but he says he feels comfortable there. He didn't play third at Miami because current Twin Danny Valencia was at third base when he got there. The Reds have a need at third base. With Scott Rolen on the disabled list (and at 36), the Reds are using a combination of rookie Todd Frazier and veteran Miguel Cairo to man the position. Rolen is under contract through next season and the team's top prospect at the position, Juan Francisco, has been hurt this season and unproductive in a couple of big-league stints.
For more baseball news, rumors and analysis, follow @cbssportsmlb on Twitter or subscribe to the RSS feed.