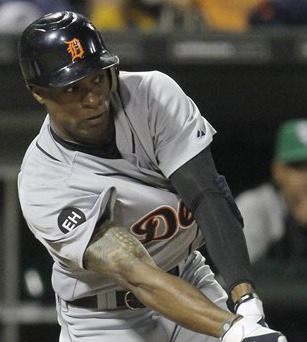 Theoretically, the
Tigers
could have seven of eight position players on the diamond (excluding pitcher) be rookies from the 2010 season.
That won't happen, but it does underline how much of a transitional season 2010 was for the Tigers and how much young talent the team has in the fold.
Now it's about figuring out which ones start.
"You don't want to downplay what these kids are doing, but you don't want to get carried away, either," manager Jim Leyland
told MLive.com
.
"If you remember right, four months ago, people were talking about Boesch as Babe Ruth," Leyland added. "All of a sudden, that's gone away and they're talking about
Will Rhymes
and
Casper Wells
. You've got to be careful with all that.
"You've got to make sound judgments as an organization."
The seven rookies are:
C Alex Avila, who is hitting .228/.323/.338 as a 23-year-old in 311 plate appearances, seems to have played his way into the Tigers' plans, and should be at the very least the backup. He could enter as a starter, but it's likely Detroit pairs Avila with a veteran catcher. (Could they steal someone off the Marlins' wishlist?)
2B Wil Rhymes is quickly becoming a fan favorite and has a .291/.337/.388 mark and just dinged his first home run. He has 195 PA on the year, but at 27 is likely a future utilityman or may have this be his best major-league success. With Carlos Guillen lost to microfracture surgery but eventually on the way back, second could be a position filled with various platoons of Rhymes, Danny Worth, Scott Sizemore and Ryan Raburn.
SS Danny Worth succeeded Adam Everett at short, but has struggled to put together a good season while losing time to injury as well, eventually manning the bench behind Jhonny Perala The 24-year-old had a .255/.295/.358 mark but has a sterling defensive reputation. Given the Tigers' interest in a pick-em man at short, Worth has a shot -- but odds are good Peralta returns.
Scott Sizemore was supposed to be the starting second baseman to begin 2009. Well, a left ankle fracture took care of that, but Sizemore has rebounded from that to post a .226/.302/.347 mark in 143 PA with three homers with the 25-year-old flashing a .298/.378/.472 line in 342 PA at Triple-A. Sizemore will probably start somewhere in 2011 -- whether at third or second base. Raburn could push him at third, or the team could import a hitter, minimizing second base to a plethora of candidates.
Casper Wells, 25, has taken Detroit by storm with three dingers in 70 trips to the plate, checking in with a .354/.400/.596 line. Given his Triple-A line of .233/.309/.483 was decidedly more tepid, plus the struggles of Brennan Boesch, Wells won't be entering 2011 as a starter. Odds are he battles with Boesch and Raburn in one outfield position while the Tigers bring in at least one outfielder (and don't be shocked if it's a pricey one) to shore up the offense.
Austin Jackson (pictured) is the probable Rookie of the Year award winner and isn't going anywhere after flashing Gold Glove-caliber (as in, actually worth it instead of the numerous head-scratching Gold Glove awards that get handed out) defense and a .300/.355/.412 mark in 622 PA.
Brennan Boesch started the season on fire, as Leyland noticed, but a brutal second-half cool streak has brought him down to .265/.331/.432 with 14 dingers in 483 PA. The Tigers shouldn't won't allow Wells and Boesch to take up two starting spots and should have them battle for time, but with a possible outfield job and DH position vacant, Detroit may not be able to bring in two sluggers. That could hand Boesch a starting job.
There are certainly plenty of youngsters on offense, but as seems clear, the Tigers should bring in outside help.
"I think there are some ingredients here that are pretty young that can handle the job at this level, for sure," Jim Leyland noted. "But if you think you can just take all young guys and go walk through a division, that's not going to happen. You're going to get your [butt] beat."
If the Tigers run out all seven rookies in that lineup around
Miguel Cabrera
, then the club would certainly get their
"[butt]" beat.
-- Evan Brunell
For more baseball news, rumors and analysis, follow @cbssportsmlb on Twitter or subscribe to the RSS feed .