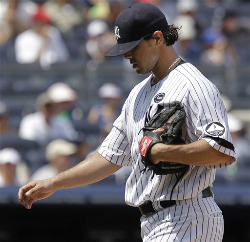 On Sunday,
Yankees
manager Joe Girardi said
Sergio Mitre
would make another start for the Yankees, despite a rough first outing in place of
Andy Pettitte
on Saturday.
"I'm not going to judge Sergio just on [Saturday]," Girardi
told reporters.
Apparently after judging Mitre on Saturday
and
Sunday (maybe he sat on the bench wrong?), Girardi changed his mind. He announced Monday that
Dustin Moseley
will start Thursday against Cleveland and Mitre will head for the bullpen.
"We tried to prepare Serge to start, and I just didn't see the crispness necessarily in his pitches," Girardi
said.
"I don't think he's physically ready. He probably could have used some more time, so we're going to try to get him right in the bullpen."
Translation: "Uh, maybe we messed up thinking a guy coming off an oblique injury, who hadn't pitched to major leaguers since June 4, could just step right into the rotation."
So now right-hander Moseley, who followed Mitre impressively in Saturday's game, will get his first start for the Yankees. Moseley has started 23 games in the previous four seasons with the
Angels
.
Moseley probably won't have a lot of chances to make his mark. Pettitte thinks he'll be back in a couple of weeks, and then there's the chance the Yankees could add a starter this week in the trade market.
-- David Andriesen

For more baseball news, rumors and analysis, follow @cbssportsmlb on Twitter.