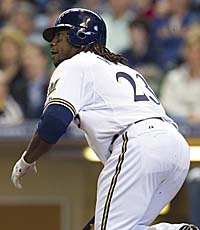 By Matt Snyder
The Milwaukee
Brewers
entered the 2011 season with sky-high expectations. In fact, you could make the argument the expectations have never been higher since the team joined the national league.
Yet after Monday's 2-1 loss to the
Braves
in Milwaukee, the Brewers sat 0-4 for the first time since 2003. That was a team that would go on to lose 94 games. This was a team probably confident it could win that many. Fortunately, the players realize that there is still more than 97 percent of the season remaining.
"We know we're still good," red hot
Rickie Weeks
said after the game.
"We certainly didn't hope to start 0-4. Obviously, we felt good about ourselves coming out of the spring and we still feel good about ourselves. It'll be nice to get our first win under our belt and I think we'll feel a little bit better about where we're at,"
Ryan Braun
added.
"It's not frustrating. It's the beginning of the season. It's only four games. We still have 158 games to play," center fielder
Carlos Gomez
pointed out. (
Milwaukee Journal-Sentinel
)
The Brewers could very easily be 2-2, if not better. On opening day, they took a three-run lead into the ninth, only to see closer
John Axford
cough up four. Monday, they had a 1-0 lead in the eighth inning when setup man
Takashi Saito
allowed two home runs.
It's easy for fans to become overly frustrated with slow starts, because they've sat and waited for months for the season to begin. Excitement builds and builds as it inches closer, and then to see a team thought to be pretty good start 0-4, it's maddening. Just take a deep breath and follow the lead of the guys on the field. This is a marathon, not a sprint. Plus, having to open at Cincinnati and then host the Braves isn't exactly an easy task.
For more baseball news, rumors and analysis, follow @cbssportsmlb on Twitter or subscribe to the RSS feed.