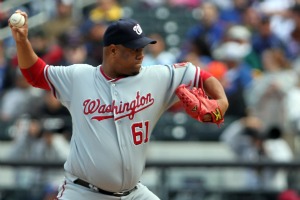 There's seemingly no end to the list of pitchers that could win a rotation spot for the Nationals.
Luis Atilano, Ross Detwiler, Tom Gorzelanny, Livan Hernandez, John Lannan, Jason Marquis, J.D. Martin, Yunesky Maya, Craig Stammen, Jordan Zimmermann... that's a lot of names for just five spots.
Of course, most of these spots are locked up. It's hard to imagine Hernandez (pictured) not winning a spot when he's the projected Opening Day starter a season after posting a 3.66 ERA in 211 2/3 innings.
"Here's the thing about baseball," pitching coach Steve McCatty told the Washington Post. "Until somebody says, 'Hey, you have it,' you better fight your butt off to keep it. I'm sure that the guys realize, 'Hey, Livo is probably going to be starting. They look at how many starts are open. 'I don't know how many spots we have, but I want to be one of them.' Competition should bring out the best of them."
Hernandez figures to be joined in the rotation by Marquis, Lannan and Zimmermann, leaving just one spot for the scrum to get. But as McCatty points out, what if Marquis shows he's not all the way back from injury? Or Zimmermann, despite his loads of talents, doesn't put it all together?
"I'm not trying to sit here and say those guys are nailed down," McCatty said of the projected front four. "Those are the guys who roll off your tongue first, but it doesn't mean it's a lock. Those final decisions will come down to [manager Jim Riggleman] and [GM Mike Rizzo]."
The leaders for the No. 5 spot are Maya and Gorzelanny. Maya defected from Cuba and spent 2010 in the farm system, making a handful of starts down the stretch, but the 29-year-old didn't impress. A star turn in the winter leagues has boosted his stock, but he will have to contend with the recently-acquired Gorzelanny, recently of the Cubs. A year younger than Maya, Gorzelanny pitches from the left side and has unquestioned stuff but has struggled to put it all together consistently. If he finally goes, it could be a major gain for the Nationals.
-- Evan Brunell
For more baseball news, rumors and analysis, follow @cbssportsmlb on Twitter or subscribe to the RSS feed.