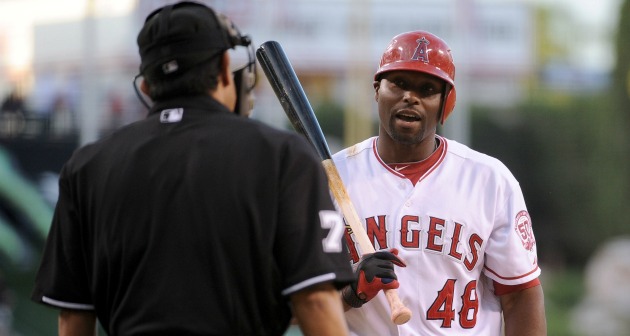 By Evan Brunell
Torii Hunter
, right fielder for the
Angels
, is considering retiring after the 2012 season, he tells the
Minneapolis Star Tribune
. Hunter would prefer to retire an Angel but would also consider Minnesota.
''I am going to retire an Angel," Hunter said. ''Next year is my last year, and I'm going to retire an Angel. I'm going to evaluate it this offseason. That's when I'll know. It's 60-40, to the positive, that I'll keep playing."
Earlier this season, Hunter was mired in a bad slump after injuring his quad. That contributed to his .250/.321/.396 in the first half. Since the break, Hunter is slashing .281/.353/.474, which has caused him to reconsider the stance, although the possibility remains very much in play.
''I feel good now, but I was hurt the first two months, and I was just evaluating everything, like, man, I can't move," he said. ''And then it just went away, and now I feel good, so now I'm on the positive side again. 'You don't want to see your skills diminish. You don't want to linger.
"'So if I sign an extension, they'll get first dibs. I want to retire an Angel. If I can't, then why not Minnesota?"
Hunter went on to address his contract situation with Minnesota, saying he feels like it is in a similar position currently with
Michael Cuddyer
. Hunter, who signed a five-year, $90 million deal with the Angels, said he would have accepted a four- or five-year deal, while Smith would only offer three. Smith has offered Cuddyer a contract extension for two years, which he could double in free agency.
And then Hunter's guns came out, delivering harsh words for GM Bill Smith:
Hunter said the Twins made an offer to him ''just to show people that I turned it down, to make me look bad. Same thing here. Cuddyer is going to make less, as a free agent? I told him before, 'They'll make an offer and people will say, 'You turned down the money, you could have stayed, you're money-hungry.' "

Hunter described Smith as cold.

''He had no heart, no compassion, no nothing," Hunter said. ''Because he wasn't the one who brought me in. [Former GM] Terry Ryan brought me in. Terry Ryan was my dad, my guy. When Bill Smith took over and we had a conversation, I wasn't feeling it. There was no chemistry, nothing between us. It was like I had never played with the Twins."

Noting that the Angels traded for Mark Teixeira during a pennant race in 2008, Hunter said: ''Sometimes I think they have that small mind over there, in that organization. I just feel they never went and got that big piece. Shannon Stewart worked out just fine for us [in 2003], he helped us out a lot, but getting Teixeira, that's big."
Well, if Hunter thought Minnesota was an option if he didn't stay in Los Angeles, I don't think it's one anymore.
For more baseball news, rumors and analysis, follow @EyeonBaseball on Twitter or subscribe to the RSS feed.