By Evan Brunell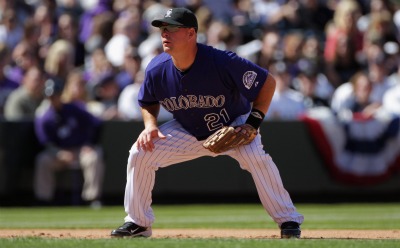 Ty Wigginton has long been coveted by the Rockies, as they were a popular name attached to the utilityman last season at the trade deadline, when Wiggy was in Baltimore.
Having signed with Colorado as a free agent, Wigginton opened the year on the bench although his versatility and ability to hit left-handers got him in the lineup plenty of times. However, he moved into the starting lineup more frequently when third baseman Ian Stewart was demoted to Triple-A.
Unfortunately for Wigginton, he suffered an oblique injury Tuesday after his best game as a Rockie, delivering a 3-for-4 night with a home run. Oblique injuries have swept baseball, leaving many scrambling to find out why.
The injury occurred on a slide into second base, as Wiggington relays to the Denver Post. "I reached up with my arm because the throw was off line as I was getting close to the bag and felt something," Wigginton said. "It's tough."
The 33-year-old believes he will be able to avoid the disabled list, which the Rockies certainly would love so they don't have to dip down to Triple-A for Stewart, Chris Nelson or Eric Young, Jr. In the interim, Colorado can start Jose Lopez at the spot, who has been sharing time with Wiggy at the hot corner as Jonathan Herrera has the second base job on lockdown.
While the team doesn't necessarily have to make a move for an infielder, the Rockies may do just that given back-to-back off days after a postponement of Thursday's game followed by an off day Friday. Colorado has been carrying 13 pitches and there's really no need for that at this point, and doubly so when the pitching staff will receive two straight off days. That could cause the dip down for Stewart, Nelson or Young to round out the bench.
Stewart was supposed to start at third all year for the club, but a poor start caused the team to give up in a year where success was being predicted. He's bounced back so far, but do the Rockies really want to jerk him right back to the majors and put him in a bench role? No, that role is far better served for Nelson or Young.
For more baseball news, rumors and analysis, follow @cbssportsmlb on Twitter or subscribe to the RSS feed.