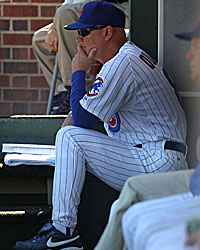 Sunday, the
Cubs
will begin Cactus League play.
Kosuke Fukudome
will bat leadoff for Mike Quade's team, but that doesn't mean traditional fast-starter will be the first Cubs hitter on April 1 in the season opener. Quade told the
Chicago Tribune
it's far too early to know who he is going to lead off on that day.
The problem is, Cubs fans are going to complain no matter who Quade pencils into that leadoff spot, because every single player on the team is ill-suited to hit there.
In the above linked article, the Trib noted how dreadful Fukudome was in the leadoff slot last season. He does have a career .446 OBP in March and April, however, so he might be the best option. Still, he generally regresses as the season moves along and is only a career .233 hitter in the leadoff spot -- so it's not like he appears the long-term solution.
But look around the rest of the roster.
Starlin Castro
is going to hit second, Quade has announced. The future star still doesn't have enough grasp of the strike zone to man the top of the order.
Alfonso Soriano
? That's old hat and let us all thank Quade for not subjecting us to those debates again.
Aramis Ramirez
,
Geovany Soto
and
Carlos Pena
are obviously not options.
Marlon Byrd
had a good season last year, but only 31 walks in 630 plate appearances to go with a .293 batting average doesn't fit. He's more a six-hole at this point.
Blake DeWitt
has a career .335 OBP, which would be awful for a leadoff man. He has never shown signs of being able to handle much more than the eight-hole, but he is only 25.
Tyler Colvin
's .316 OBP is even worse, so even if he supplants Fukudome as the early-season starter -- there's no doubt the job is his for good once mid-May strikes -- he's not viable at the top.
So, if you were Quade, who would you bat first? I honestly think I'd go into the season with Fukudome and hope that someone else shows a good penchant for getting on base during April and the first few weeks of May. Maybe Castro adapts, DeWitt surprises or Colvin alters his approach. The most likely scenario is this will be a hole for the entire season, which isn't the worst thing in the world. He could always just force Byrd up there out of necessity -- the veteran is enough of a professional to deal with it well. After all, the
Giants
entered last season with Aaron Roward atop the order.
-- Matt Snyder
For more baseball news, rumors and analysis, follow @cbssportsmlb on Twitter or subscribe to the RSS feed.