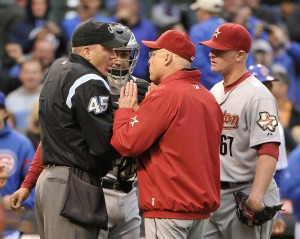 By C. Trent Rosecrans
It was a meaningless game at Wrigley Field on Friday, but it highlighted once again the need for expanded replay.
Here's the scene, bases loaded, one out in the 12th inning. Chicago's Marlon Byrd hits a chopper down the third-base line, a charging Chris Johnson looks to field the ball, but it bounces off his glove just after taking a short hop apparently in foul territory. Third-base umpire David Rackley is on the line and has the best view of the play, calling it a fair ball.

Watch the play here.
If Johnson touches the ball in fair territory, Starlin Castro scores and the game is over. If it's in foul territory, Astros reliever David Carpenter has a 1-1 count on Byrd. Rackley called the ball fair, although on the replay there's at least reason to question it.
There wasn't a great camera angle on the play, but it seems like it bounced foul -- and was going foul -- just before it hit Johnson's glove. Expanded replay could add more cameras to the field, especially on the foul lines, there's certainly money for it in MLB and can even add to the telecasts. Or you could even use the technology that tennis uses in the majors that can help decide close line calls.
In the end, the most important thing is getting the call right -- and once again it appears MLB umpires didn't. Let it be noted, though, it was an incredibly tough call and I see what Rackley saw (chalk coming up on its previous bounce). I'm not blaming him. It's as tough of a call as there is out there, but he should have the chance to make the correct call with every tool at his disposal.
Part of the blame should go to Johnson, who wasn't going to get Castro at home, nor Byrd at first. If he lets the ball go, it likely rolls foul. But like with Rackley, it was a bang-bang play and a very quick decision was needed, it's just that an umpire's call can be reversed and made right, a player's error is part of the game. In the end, there is a chance to make everything right, and we're at the point that technology allows that and we should use it.
For more baseball news, rumors and analysis, follow @eyeonbaseball on Twitter or subscribe to the RSS feed.