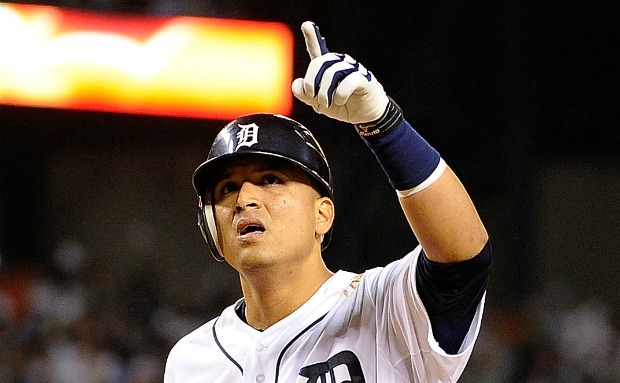 By Evan Brunell
DETROIT --
The
Tigers
love the home cooking and rode three solo home runs and an extra-base hit with runners in scoring position to take Game 3 of the ALCS, 5-2. The win narrows the
Rangers
' lead in the series two games to one.
Hero: Doug Fister came up huge in a virtual must-win game for the Tigers, throwing 7 1/3 strong innings, punching out three and allowing seven hits. Fister had been knocked around in the ALDS, and it was fair to wonder if he was regressing to the mean after unsustainably killing it as a member of the Tigers in the regular season. Nope. Fister's outing was just what the Tigers needed after Justin Verlander and Max Scherzer were unable to keep the Rangers at bay.
Goat: It may be unfair to pick on Koji Uehara when it was Colby Lewis that relinquished the lead, but so be it. Uehara, you'll recall, gave up three runs and a homer against the Rays in Game 2 of the ALDS without recording an out. That was the extent of his pitching in the postseason until Tuesday night, when Ron Washington asked Uehara to stop the bleeding. Well, he didn't. Uehara relieved Lewis with a runner on first that he allowed to score, then gave up a solo homer in the seventh to ice the game for Detroit.
Turning point: Until Miguel Cabrera stepped to the plate in the bottom of the fifth, the Tigers were 2-for-28 with runners in scoring position in the postseason, and had collected only one extra-base hit with RISP over the last 32 innings. The lone Tiger run that had scored up to that point was on a solo homer by Victor Martinez (pictured). That changed when Miguel Cabrera took a grooved 0-2 fastball from Colby Lewis and lined it to right-field, plating the go-ahead run, and giving Detroit a lead it would not relinquish.
It was over when … It took a while for Detroit to get going with the stick, but a Jhonny Peralta homer in the bottom sixth gave Detroit an insurance run that suddenly made it very difficult for Texas to engineer a comeback with Detroit needing just nine outs from Fister and the bullpen. After an Andy Dirks single to knock Colby Lewis out of the game, Austin Jackson finally came through to plate another run and then it was really over, but Miguel Cabrera added a solo blast just for extra measure.
Next: Detroit will attempt to even up the series on Wednesday when it offers up No. 4 starter Rick Porcello up against Texas' Matt Harrison.
For more baseball news, rumors and analysis, follow @EyeonBaseball on Twitter or subscribe to the RSS feed.