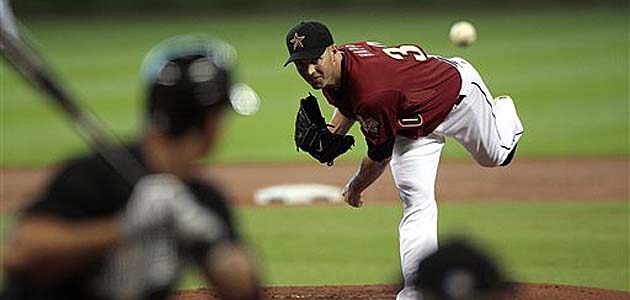 By Matt Snyder
3UP
J.A. Happ
,
Astros
. The 'Stros picked up their second win of the season, and Happ pretty much took care of everything on his own. He tossed 7 2/3 innings, allowing only four hits and one earned run (we'll just ignore those pesky four walks for now) while picking up the dubya. Just in case that wasn't enough, he swung the bat a little bit, too. In fact, he drove home enough runs to support his own victory. He went 2-3 with a double and two RBI.
Wilson Betemit
,
Royals
. Man, what a day. Betemit came to bat five times and wasn't retired. He walked once and went 4-4 with a pair of doubles in a 9-5 victory. Considering
Mike Aviles
' struggles, Betemit has surely earned himself a few more at-bats in the near future.
Casey McGehee
,
Brewers
. He only had one plate appearance Sunday, but made it count. McGehee dug in against
Kerry Wood
and the
Cubs
-- the team that cut him in 2008 -- and hit a go-ahead two-run bomb in the bottom of the eighth. It was his first home run of the young season, and pushed the Brewers to their fifth win in the past six games after starting 0-4. Interesting to note: The Brewers had three two-run home runs, which comprised all their scoring Sunday in a 6-5 win.
3DOWN
Blaine Boyer
,
Mets
(well, formerly at least ... ). Rough day for poor ol' Blaine. He picked up his second loss of the season, which is really tough to do when the team has only lost five games and you're a reliever. This one came after he was touched up for four hits and four earned runs in the 11th inning -- including giving up a three-run shot to
Laynce Nix
. If that wasn't enough, the Mets rubbed salt in the wound by designating Boyer for assignment after the game. It's a relatively noteworthy move because in a corresponding transaction, the Mets have summoned 38-year-old Jason Isringhausen from the minors to join the bullpen.
Nick Masset
,
Reds
. Last time out, Masset took the loss after letting the Astros get the better of him. Sunday, it happened again, only this time it was the
Diamondbacks
and it was much uglier. His outing against the Astros was two innings and he only gave up one run. This time he was tagged for four runs, including a big blow from
Chris Young
in the form of a go-ahead three-run homer. The ERA has hopped up to 11.25. As an aside, that has to be the worst part about being a reliever. One four-run inning ruins your numbers for months. He'll need a good portion of the season to work that thing back down.
Dan Johnson
,
Rays
. With Manny gone and
Evan Longoria
injured, Johnson is forced to shoulder a pretty large burden in the middle of the Rays' batting order. Thus far, he's not even close to being up to the task. After going 0-4 with a strikeout, Johnson is now hitting .088 with a .147 on-base percentage. He did hit a home run Friday in the Rays' only win of the season, but it is a complete outlier at this point.
For more baseball news, rumors and analysis, follow @cbssportsmlb on Twitter or subscribe to the RSS feed.