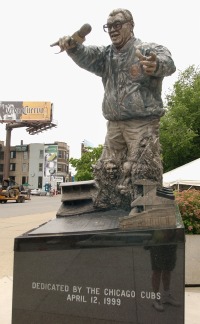 The
Cubs
have added injury to insult of the state of Harry Caray outside Wrigley Field.
Less than three months after the Cubs moved the statue of Caray from the corner of Addison and Sheffield out of the way to the bleacher entrance on Sheffield and Waveland, the Cubs damaged the statue when trying to makeover the ballpark for the Northwestern-Illinois football game.
According to the Chicago Tribune
, the crack in the base of the statue occurred last month when one of the field vehicles used in the ballpark makeover "accidentally clipped the corner while going over the sidewalk."
A Cubs spokesman told the newspaper replacement granite has been ordered and the Cubs plan on fixing the y-shaped crack that goes through the inscription, "Dedicated by the Chicago Cubs, April 12, 1999," running through the "H" in "the" and the "L" in April. The picture to the right is at the old location and before the crack.
The Cubs moved the statue this summer to make way for a new statue dedicated to Billy Williams, which was given the prime real estate, while Caray was moved to the cheap seats.
-- C. Trent Rosecrans
For more baseball news, rumors and analysis, follow @cbssportsmlb on Twitter or subscribe to the RSS feed.