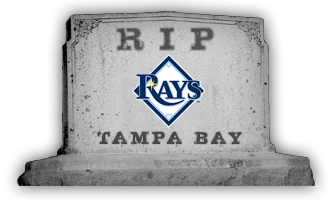 By Evan Brunell

Another season gone, another disappointment for 29 teams as one is immortalized forever. Let's take a look back at 2011 and forward in Eye on Baseball's R.I.P. series...
Team name:
Tampa Bay
Rays
Record:
91-71, 2nd place AL East, 6 games back. Wild card champions, lost to
Rangers
3 games to 1 in ALDS
Manager:
Joe Maddon
Best hitter:
Ben Zobrist
-- .269/.353/.469, 20 HR, 99 RBI
Best pitcher:
James Shields
-- 16-12, 249 1/3 IP, 11 CG, 4 SHO, 2.82 ERA, 65 BB, 225 K
The Rays have now reached the postseason two years in a row, but dropped its second straight ALDS to the Rangers, making it to four games before the season ended. It was a remarkable run for a team that had to remake its bullpen and replace Carl Crawford in left field.
2011 SEASON RECAP
Tampa began the season as an afterthought in the eyes of many. After all, how were the Rays supposed to contend with New York and the revamped Red Sox? That didn't stop the team from producing, though, posting a record over .500 each of the first three months. The team got quite a bit of attention in April when Manny Ramirez retired instead of serving his 100-game suspension for failing a drug test for the second time. They weathered it though, despite losing someone that was supposed to be integral to the lineup. Sam Fuld dazzled the team for a while, but the Rays limped through the season offensively until Desmond Jennings was promoted in late July.
July wasn't kind to Tampa, finishing with a 11-15 record but they turned on the jets after that, going 35-20 and winning the wild card on the last swing of the regular season, with Evan Longoria's homer disappearing over the fence minutes after the Red Sox completed their collapse.
2012 AUDIT
The Rays have a decent amount of overturn coming, set to lose two starters from their lineup in Casey Kotchman and Johnny Damon. Backstop Kelly Shoppach and reliever Juan Cruz also played integral roles, but the important thing to notice here is that none of Tampa's important players are free agents. That's huge, and while the Rays will doubtless be making some moves -- and if you see below, I have them making two significant trades -- they should enter 2012 with a team fairly recognizable from this year. This is a team poised to contend, and the riches in the minors will keep on boosting the team. Their postseason may have been cut short, but they'll be back plenty of times in the coming seasons.
FREE AGENTS
RP Juan Cruz
DH Johnny Damon
RP
Kyle Farnsworth
($3.3 million club option)
1B Casey Kotchman
C Kelly Shoppach ($3.2 million club option)
OFFSEASON FOCUS
The Rays need to make room in the rotation for Matt Moore and fielded calls on James Shields this trade deadline. They need to field more calls and deal him to Cincinnati for first baseman Yonder Alonso, backstop Ryan Hanigan and a pitcher. Alonso can step in at first or DH, Hanigan can step in as the backstop and the pitcher can either be a back-end starting pitcher -- which Cincy has plenty of -- or a solid reliever. The move would give the Rays cost-control over Alonso for years and inject some thump into a lineup that could use another strong hitter.
Let Kelly Shoppach go and wait on Casey Kotchman and Johnny Damon's market. Shoppach could be brought back on a smaller deal, but $3.2 million is too much for someone who hit .176/.288/.339, and fell under .200 in batting average for the second straight year. Similarly, Kotchman had a solid season with the bat but the Rays shouldn't rush to pay him, as there's a reason he's bounced from team to team. Let the market dictate Kotchman's price, then maybe you entertain bringing him back. The same applies for Damon. If the price is right on either, one of them can return to play first or DH opposite Alonso.
Trade B.J. Upton to the Nationals for Ian Desmond and Roger Bernadina. Upton just can't justify his salary anymore on the Rays, and the Nationals have big interest in Upton. Desmond can fix the shortstop hole in Tampa, while Sean Rodriguez, Ben Zobrist and Bernadina can help fill the hole in the outfield left by Upton's departure.
Pick up Kyle Farnsworth's option and use the money saved from Shields and Upton to sign Mike Gonzalez. The Rays need a shutdown lefty in the bullpen, and Gonzalez can be that man. J.P. Howell used to be, but coming off a bad year, you need another, reliable, lefty in the bullpen. Then, use the rest of the money to bring back Kotchman or Damon, or go after someone like Jason Kubel.
For more baseball news, rumors and analysis, follow @EyeonBaseball on Twitter or subscribe to the RSS feed.