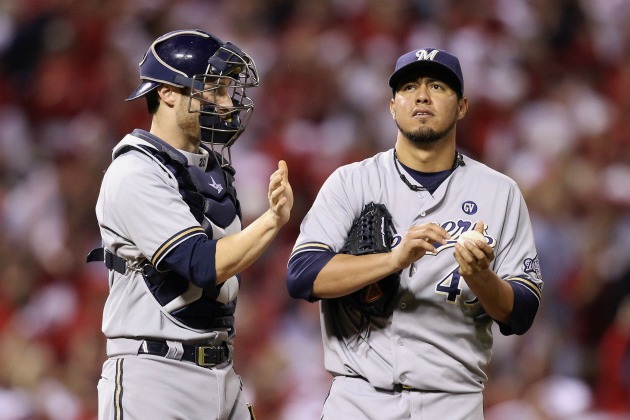 By C. Trent Rosecrans
ST. LOUIS -- That pitchers duel we expected in Game 3 of the NLCS? Well, that's not quite what we've got so far.
The Cardinals batted around in the first inning, scoring tour runs, while Chris Carpenter needed two double plays in the first three innings to avoid giveng up any more than three runs he allowed in the first third of the game.
Both pitchers struggled with their control, as Gallardo needed 82 pitches to get through three innings, Carpenter 67. Carpenter walked just one in the first four innings and hit another batter. Both were done after five innings. Carpenter gave up three runs on six hits, striking out three and walking one. Gallardo gave up four runs on eight hits, walking five and striking out two. He's the first pitcher to walk at least five and throw three wild pitches since St. Louis' Rick Ankiel in 2000. In fairness, though, two of Gallardo's walks were intentional.
"Carp's not sharp, Gallardo's been sharper," Tony La Russa said during the TBS in-game interview.
Carpenter walked the second batter he faced and hit the third -- but was bailed out when surprise starter Mark Kotsay wondered too far off second base on Prince Fielder's liner to center and was doubled up to end the inning.
Gallardo got no such help in the bottom of the first -- with Mark Kotsay unable to make a diving catch on Jon Jay's sinking line drive to score the first run and then Albert Pujols doubled in another. Another run scored on a Yadier Molina double play and then David Freese doubled to right on a ball Corey Hart just missed.
The Brewers were able to get to Carpenter in the second on three straight singles that scored one and then a sacrifice fly by Gallardo. Kotsay then homered to lead off the third.
Both teams have very good bullpens, and it looks like they'll need them.
For more baseball news, rumors and analysis, follow @cbssportsmlb on Twitter or subscribe to the RSS feed.