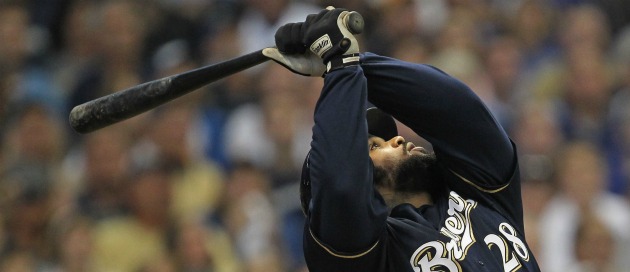 By C. Trent Rosecrans
Among those rooting for the Brewers to reach the World Series may have been the band, the Baseball Project. While none of the members are Milwaukee fans (or Cardinals fans), they did have a gig lined up for the Milwaukee if the Brewers made the World Series -- but you know the rest of the baseball side of the story.
The group -- made up of indie rock veterans Steve Wynn (the Dream Syndicate), Linda Pitmon, Scott McCaughey (the Minus 5) and Peter Buck (R.E.M.) -- wrote some songs for the folks in Milwaukee that went unused. Still, the group did release a song from that planned set on its website. The song, well, the title speaks for itself: "C'mon Prince (Stay In MIlwaukee)."
Here it is:

C'mon Prince (Stay In Milwaukee) by The Baseball Project
You've got to give the guys credit, they're right when they point out to Fielder that he's "got nine more years of Ryan Braun hitting right in front of you/You think any other three and four hitters can do the damage you two will do" and "You'll have have money coming out of your ears/Even if you sign for just five years."
The band's website says its working on an alternate version: "C'mon Albert (Stay In St. Louis)."
H/T to Don Walker of the Milwaukee Journal Sentinel.
For more baseball news, rumors and analysis, follow @eyeonbaseball on Twitter or subscribe to the RSS feed.