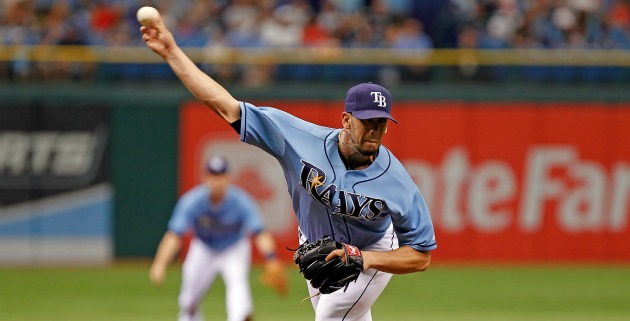 By Evan Brunell
The
Rays
made three moves to shape their 2012 team on Monday, bringing back starting pitcher
James Shields
and closer
Kyle Farnsworth
while cutting ties with catcher
Kelly Shoppach
.
Starting pitcher
David Price
also rejected a player option on his contract, signed when he was first drafted in 2007. Price was set to make $1.5 million in 2012 had he not been arbitration-eligible, but thanks to qualifying for Super 2 arbitration status, he gained the right to opt out. Price will easily do far better than $1.5 million in arbitration, especially since he earned just over $2 million in free agency. He could see quite the jump and there is the chance he could clear $5 million in arbitration.
The team does have a record of giving their young stars long-term deals, so this could hurry along a long-term deal between both sides. Tampa would likely love to lock Price up for at least the next four years (as he's tied to the team for that length anyways) in exchange for locking in what he will make over the next four years and receiving a bit of a discount as well, given the club will be guaranteeing the next four years as opposed to going year by year. Of course, Price could decline and take the risk that his arm and effectiveness holds up. Going through the arbitration year by year would certainly maximize the lefty's salary, but again, it comes at significant sik.
More Free Agency
Position rankings
The Rays freed up some money for Price in declining Shoppach's option, although the club is interested in bringing him back. The baclstop will get a $300,000 buyout instead of receiving $3.2 million in 2012 salary. That was a no-brainer, as Shoppach's power disappeared, hitting a paltry .178/.268/.339 in 253 at bats. This is a man who once hit 21 homers (in 2008), though, so he will have several suitors. He also has a reputation for strong work behind the plate.
In other news, two linchpins of the pitching staff are back. Ace James Shields, who made his first All-Star team and led the bigs with 11 complete games, returns for $7.5 million (with an extra $500,000 due depending on Cy Young balloting) in 2012. It's possible that Shields will be dangled on the trade market, as the Rays will be looking to capitalize on his big year, save cash and integrate
Matt Moore
into the rotation.
"Im glad it's over with," Shields (pictured) told the St. Petersburg Times. "I had some confidence they were going to pick my option up. What I did this last season, I think it definitely helped the cause out a little bit. Other than that, it's kind of one of those things where it's always nice to know I was in their plans."
Farnsworth broke out in a big way in Tampa, serving as closer for the season and nailing down 25 saves, posting a 2.18 ERA in the meantime. The 35-year-old seems to only get better with age, and exercising his $3.3 million option was a no-brainer. He struggled down the stretch with elbow discomfort, but is still the favorite for saves in Tampa next season.
For more baseball news, rumors and analysis, follow @EyeonBaseball on Twitter or subscribe to the RSS feed.