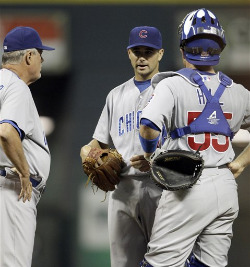 Ted Lilly
walked off the mound in a
Cubs
uniform for what was probably the final time Tuesday, and it was a day of resignation.
The Cubs are going nowhere, and it's time to sell. Lilly is a proven veteran starter who's an impending free agent. He wants to stay, and by all accounts his teammates don't want to see him go, but baseball reality will probably have the final say.
''That's how it goes," Lilly told the
Chicago Sun-Times.
"And I've said what I want before, but there's a lot of things I don't get the final say in. That's the way it is.''
Lilly and manager Lou Piniella, who both arrived in Chicago in 2007, shared a cab to Minute Maid Park on Tuesday. They talked about Lilly's likely departure.
''As a manager you get attached to your players, and Teddy, for instance, has been here with me for four years,'' Piniella said. ''He's been a huge part of my four years. He's a good young man. He's a professional. And I've got nothing but admiration for him.''
Lilly is 3-8 with the worst run support in the majors, but has a 3.88 ERA. One scout told the
Sun-Times
that if they were making the same money, he'd still rather have Lilly than Houston's
Roy Oswalt
.
At least three teams in the market for a starter had scouts watching Tuesday: the
Yankees
,
Twins
and
Dodgers
.
-- David Andriesen


For more baseball news, rumors and analysis, follow @cbssportsmlb on Twitter.