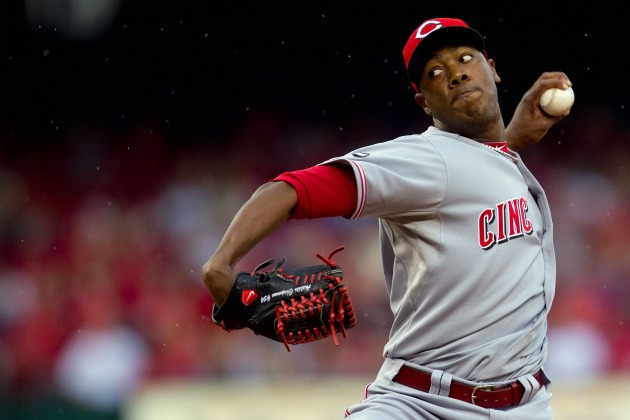 By Evan Brunell
What's going on with
Aroldis Chapman
?
"His arm slot gets too low,"
Reds
pitching coach Bryan Price told the
Cincinnati Enquirer
. "He gets across the ball. He's pulling a lot of balls inside to right-handed hitters."
Chapman has been a mess lately, with velocity and command issues cropping up. On the year, his ERA is still a respectable 4.26 in 12 2/3 innings but you see warning signs in the K/BB ratio with a 15/16 mark, which simply won't do.
"You get to those places where you're not throwing strikes and your only focus is to try to throw the ball over," Price added. "Maybe you aim it a little bit. I think that's where he is right now. There's a noticeable difference between how he was throwing the ball in Milwaukee -- in what I thought was his most dominant performance -- and where he was [Tuesday] night in his arm slot. His fingers aren't on top the ball. He's getting a lot of run and pull."
That Milwaukee stint Price is referring to happened on April 27 when he went 1 2/3 innings while striking two out and allowing no baserunners. Since then, it's a whole different story. He's made three appearances since, on April 30 and May 5 and 10. Combined, he's walked eight (!) and struck out just three in one inning, coughing up six earned runs. That's not pretty. So how do you fix it? Obviously, the first part of it is to raise his arm slot.
"The second part is that when he's out there, he's pitching with his confidence," Price suggested. "When you struggle a while, you start to question yourself a little bit. I don't know that he's there, but I know it's a typical response."
Confidence only comes from success, though. That needs to come first.
"It's just a matter of getting back ahead in the count," Price said, "get those guys to chase the high fastball or the slider down. Right now, he's in so many 2-0 and 3-1 counts, he doesn't get a chance to pitch much. He's just trying to throw the ball over. That's not an advantageous spot to be in."
Reds manager Dusty Baker did say that Chapman will not be demoted to the minors and will need to work out his kinks at the major-league level.
For more baseball news, rumors and analysis, follow @cbssportsmlb on Twitter or subscribe to the RSS feed.