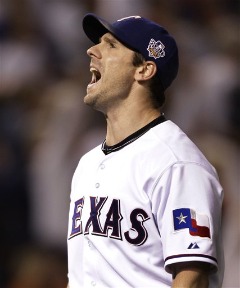 Not sure if you've noticed this piece of news during the run-up to the World Series and during those five games, but
Rangers
pitcher
Cliff Lee
is now a free agent.
I know, you'd think someone had told you by now, but you're lucky we're here to let you in on that little secret.
Anyway, Lee said he'd "love to" return to Texas and Rangers general manager Jon Daniels said he'd "love to have him back."
Simple, right? Daniels sends Lee a note to check a box if he'll "go with him" and Lee wants too… thing is, there are other suitors out there and this courtship won't end quickly.
"We've tried to make it as little of a distraction as possible in talking about his free agent status, which has basically been our approach with everything, whether it's staff, contracts or player contract or whatever, we're trying to push everything on the back burner and focus on tonight's game," Daniels
told the Dallas Morning News
before Monday's Game 5. "But we've made it clear we'd like to have him back. I know we're not the only club that would like to have him. It's a competitive market, as it should be, and we'll see what happens."
Lee was the loser on Monday, but will be the winner in contract negotiations soon enough. He said all the right things about the Rangers, but that's what you do in this case.
"Yeah, I like this team," Lee
told the Dallas Morning News
. "It's a very fun team to play on. It was a very talented group of guys. I expect this team to do some really good things next year. I don't know if I'm going to be a part of it or not, to be honest with you. I would love to be, but so many things could happen, you never know."
Well, he could know, but that's a different story. You can't blame a guy for looking around when everyone wants to get his attention. The thing is, he'll have some really good teams bidding for his services.
The
Yankees
, of course, are a given for any player looking for a huge paycheck. And then there's the Rangers, who should be pretty good again next season.
Most of the Rangers are under contract for next season, including the rest of the rotation and the team's infield and its big bats in the outfield,
Josh Hamilton
and
Nelson Cruz
.
"That's the benefit of playing yourself into free agency: you finally get a choice in the matter of what goes on and where you're going to be," Lee
told the New York Times
. "I'm looking forward to it. I think it's going to be fun."
The team's other question marks are
Vladimir Guerrero
, who owns a $9 million mutual option with the team for 2011 (with a $1 million buyout for the Rangers and none if Guerrero opts out).
"I don't know," Guerrero
told MLB.com
when asked if he'd return in 2011. "We'll see what happens. I like it here. This team has a good future."
The other question mark is behind the plate. Neither
Bengie Molina
nor
Matt Treanor
are signed for next season and Molina has contemplated retirement.
Molina will get a World Series ring from the
Giants
, but was a Ranger for the series. As for 2011, he still doesn't know.
"Right now it's probably closer to not playing than yes," Molina
told the Fort Worth Star-Telegram
. "I don't want to decide right now because then something could happen later on and I come back. I just want to spend time with my family right now -- my mom, my wife and my kids. I'll spend time and I'll make a decision."
-- C. Trent Rosecrans
For more baseball news, rumors and analysis, follow @cbssportsmlb on Twitter or subscribe to the RSS feed.