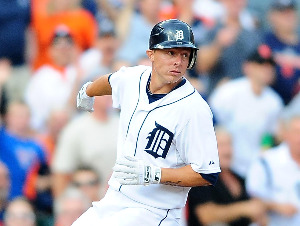 Two potential replacements for Chipper Jones are currently making their home in Detroit -- but perhaps not for long.
While Brandon Inge and Jhonny Peralta haven't been put on trade waivers yet, the Tigers -- 9 1/2 games out of first and dead in the water -- figure to put several names on waivers shortly.
Inge, an impending free agent, would have been a fantastic add to Atlanta. Just back from a fracture in his left hand, the 33-year-old is hitting .255/.331/.393 and flashes strong defense at third.
Peralta, acquired from the Indians to give the Tigers some depth with Inge and Carlos Guillen out with injuries at the time, has played third and short for Detroit so far. On the season, the 28-year-old is hitting .238/.304/.382 in what has been quite the plunge from being an above-average shortstop in years past.
Replacing Jones on the active roster for the Braves is Brandon Hicks, who profiles as a utilityman. At-bats will be split between him, Omar Infante and Brooks Conrad. All three, with the possible exception of Infante, are best served coming off the bench.
-- Evan Brunell

For more baseball news, rumors and analysis, follow @cbssportsmlb on Twitter.