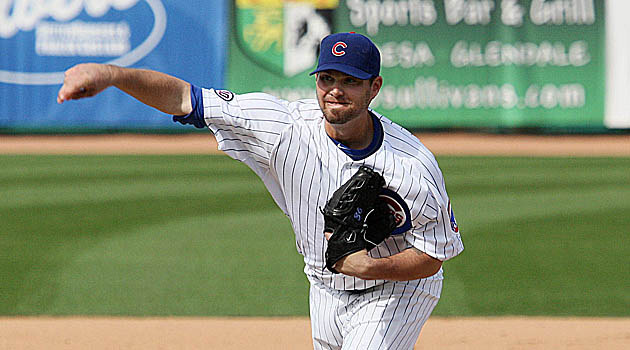 By Matt Snyder
How can you best tell when spring is winding down and the real Major League Baseball season is nearing? Well, a few things. The snow finally stops falling. I guess, though this year who really knows. It's liable to snow at some places into May at this rate. Another good sign is watching the NCAA basketball tournament on CBS (shameless plug alert). How about baseball teams starting to name -- or get close to naming -- a fifth starting pitcher? That's a pretty good one, and it's happening in a lot of different places right now.
We've already passed along that
Mark Rogers
has been demoted, which leaves
Wily Peralta
the
Brewers
' likely five . We've also noted
Michael Pineda
being in
Seattle's driver's seat
as well. But there are plenty more.
Esmil Rogers
looks like he's opening up a lead over
John Maine
and
Greg Reynolds
for the
Rockies
, after working five innings Tuesday and only facing the minimum 15 batters. (
Denver Post
)
Brandon McCarthy
has gotten in the good graces of manager Bob Geren for being "impressive" and "consistent" in looking to win the A's fifth starting job behind a pretty underrated top four of
Trevor Cahill
,
Brett Anderson
,
Dallas Braden
and
Gio Gonzalez
. (
San Francisco Chronicle
)
Ever since
Adam Wainwright
went down with injury and the
Cardinals
said they were going to look internally,
Kyle McClellan
has been the front-runner to take the remaining spot. And every outing since then, he's gotten rave reviews and been tabbed as the front-runner. Thus, it would be pretty shocking if he didn't get the job. Still, the word from the
St. Louis Post-Dispatch
is that McClellan is merely "closer" to getting the nod.
Speaking of shocking, it would be just as shocking if
Randy Wells
doesn't win one of the
Cubs
' two remaining rotation slots. He's throwing well this spring and has the past experience. It also appears that former first-round pick
Andrew Cashner
is putting some distance between himself and the rest of the field as well. We'll get back to Cashner in a second. (
MLB.com
)
Of course, there is one team a bit behind the curve here. The Texas
Rangers
, your defending American League champs, still have a whopping seven guys in the mix for two spots. If a decision is made to start
Neftali Feliz
, one that seems increasingly likely with each passing day, that narrows the field to six guys for one spot. Those six:
Derek Holland
,
Matt Harrison
,
Michael Kirkman
,
Alexi Ogando
,
Dave Bush
and
Eric Hurley
. (
Fort Worth Star-Telegram
)
THE PROFESSOR:
Of the two nicknames you see listed for Greg Maddux on baseball-reference.com, I always preferred "the Professor," even though it's nowhere near mainstream. He was so much more cerebral than his opposition, seemingly getting guys out just with his mind. Thus, it's only fitting he's passing along some knowledge to Cashner in Cubs camp as a special assistant. His latest nugget? "Walks are overrated." It's not surprising, coming from a guy who probably never walked someone by accident in his prime. Those who remember watching him in the mid-90s are nodding in agreement. You could feel when Maddux was walking someone on purpose; otherwise it didn't happen. Oh, and if Maddux's wisdom isn't enough,
Kerry Wood
has also taken Cashner under his wing. (
Chicago Tribune
)
RUSSELL THE MUSCLE:
Hey, someone has to fill the void left by
Mark Reynolds
-- both in terms of power and strikeouts. Despite his lackluster defense -- which is reportedly a concern for manager Kirk Gibson --
Russell Branyan
is turning heads by killing the ball this spring, to the tune of a 1.274 OPS. And don't scoff. While Branyan has a bad batting average and strikeout issues, his career OPS-plus is 115 and he averages 31 home runs over the course of 162 games. He need only hold off
Juan Miranda
and once-big prospect
Brandon Allen
. (
MLB.com
)
NO WORRIES:
Clayton Kershaw
was torched Tuesday by the Rangers, but
Dodgers
manager Don Mattingly isn't worried about his likely ace. Nor should he be, considering it's only the spring and Kershaw entered the game with a 0.00 ERA through 11 1/3 innings. (
Los Angeles Times
)
SWITCHBACK:
Prior to the ALDS last year, the rules for the dreaded catwalk at Tropicana Field were altered, but now those rules are reverting back to where they were in the regular season of 2010. Check out the complete list on
St. Petersburg Times
.
GETTING GRADY BACK:
Sunday could be the day.
Grady Sizemore
hasn't seen game action in about 10 months, but reportedly he has a real shot to play Sunday. Obviously huge news for the Tribe. (
Cleveland.com
)
KEEPING DICE-K:
There's been a lot of talk about the
Red Sox
trading
Daisuke Matsuzaka
of late. Peter Abraham of the
Boston Globe
makes a good case to fans that Dice-K is actually a pretty average major-league pitcher and that, as the fifth starter, that's really all the team needs. Put the absurd salary aside and just enjoy the good Red Sox team, he pleads. I tend to agree. (
Boston Globe
)
For more baseball news, rumors and analysis, follow @cbssportsmlb on Twitter or subscribe to the RSS feed.