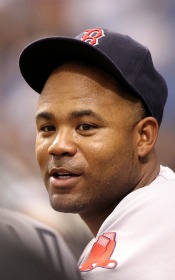 By C. Trent Rosecrans
Carl Crawford remains on track to return to the Red Sox lineup on Monday in Baltimore after playing five innings at Triple-A Pawtucket, R.I., on Friday.
Crawford has been on the disabled list since suffering a hamstring injury on June 17.
Crawford went 1 for 2 with a walk in three plate appearances. He ran the bases after all three plate appearances -- reaching in the fifth on a fielder's choice. In the third inning, he walked and then had to start and stop quickly while running the bases -- exactly the situation he wanted as he tested his legs.
"When you stop like that, that was something i was hoping to do, too, because when you stop real quick like that and nothing happens, that's a good sign," Crawford told the Providence Journal.
Crawford is expected to play for Pawtucket again on Saturday before leaving on Sunday for Baltimore and being activated on Monday.
"I just want to try to do everything two days in a row and make sure there's no pain or anything like that after that happens," Crawford told the newspaper. "Then I'll be ready to go."
For more baseball news, rumors and analysis, follow @cbssportsmlb on Twitter or subscribe to the RSS feed.