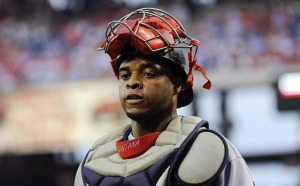 Two integral players to the future of the Indians that had their season shortened are well on their way back, but there still remains plenty of hurdles to clear.

Catcher Carlos Santana (pictured), one of the best prospects in the game, was involved in a gruesome home-plate collision with Boston's Ryan Kalish that aborted his debut season after 46 games. He underwent surgery to repair the lateral collateral ligament in his left knee three and a half months ago and has begun full lower body strength and conditioning exercises, as MLB.com notes . Santana will progress to walking and jogging at the end of this week and will launch baseball activities in early January.

Sizemore is a different story, because he had microfracture surgery on his left knee, which is not a common surgery in baseball. As a result, his timetable is a little less clear than Santana's.

"With Grady, it's a little less certain," first-year GM Chris Antonetti said. "We'll have to continue to see how he meets the individual milestones and be in touch with Dr. [Richard] Steadman [who performed the surgery] on what he feels the appropriate progression will continue to be. He's met all his checkpoints so far."
Sizemore has played in just 139 games over the last two seasons (33 in 2010), and has seen his status as an elite center fielder take a hit. Even the slightest delay could throw him off of being ready for Opening Day as he is slated to begin baseball activities in early January along with running on the treadmill. He is currently transitioning from water-based exercises to land-based.
"There's no reason to be concerned, as far as [Sizemore's] availability for us," Antonetti said. "But it's a delicate balance. Between the beginning of January or the middle of January, that's only two weeks, but it has significant implications on when he'll be ready for the season. We'll have a much better sense in January [of his timeline] than we do now."
Santana's readiness for Opening Day is more certain, but he may not play behind the dish full-time. The club indicated that they plan to play Santana at first base next season to prevent wear and tear on his body, especially coming off significant surgery.
-- Evan Brunell
For more baseball news, rumors and analysis, follow @cbssportsmlb on Twitter or subscribe to the RSS feed.