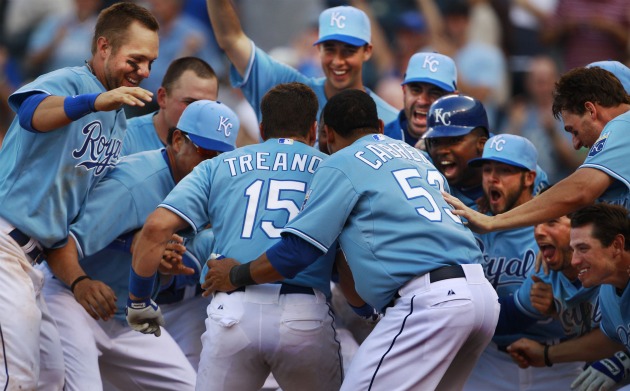 By C. Trent Rosecrans
Are the Royals baseball's most exciting team?
Well, through five games they are, that's for sure. All four of the Royals' victories this season have come in their final at-bat. Tuesday's walk-off winner was Melky Cabrera's 12th-inning RBI single for a 7-6 victory over the White Sox.
In the team's lone loss, on opening day, the Royals' Alex Gordon was just feet short of a walk-off homer in a 4-2 loss to the Angels last Thursday.
"All of a sudden, you just expect us to win and that's it," Royals infielder Chris Getz told MLB.com . "There are plenty of doubters out there, no one's giving us much of a chance, but what do we have to lose? We've got that good feeling and we'll just ride it out."
The Royals have had a different hero each night. In their first win, Kila Ka'aihue led off the ninth inning with a homer to break a tie, the next day the Royals scored two in the eighth inning, capped by Getz's RBI single. The Royals then used a three-run walk-off homer by Matt Treanor (above) in the 13th to beat the Angels in the series finale.
With four victories in their final at-bat, the Royals may not be the best team in 2011, but they're worth sticking around to watch.
Last season the Braves lead the big leagues with 25 victories in their final at-bat.
SEARCHING FOR A WIN -- Another day, another Red Sox loss. Will the Red Sox go winless this season and will the Reds go undefeated? Eye on Baseball's Matt Snyder joins blog favorite Lauren Shehadi with the answers (which, well, are both 'no.')
GOOD NEWS, BAD NEWS -- Ubaldo Jimenez's thumb is better -- but may not be good enough to allow him to make his start Friday in Pittsburgh. The Rockies' right-hander is expected to throw a bullpen today to test the cuticle injury on his right thumb. If Jimenez can't start, Jorge De La Rosa would start in his spot. De La Rosa will be on regular rest following Sunday's snow-out. [MLB.com ]
SHIFT BE A-GONE -- Red Sox first baseman Adrian Gonzalez said putting three men on the right side of the infield has never been an effective strategy against him. Last season he had more singles to left field than right. The Indians, though, had good luck with the shift on Tuesday. The Indians used the shift and Gonzalez was 0 for 4 with two groundouts to the right side. [WEEI.com ]
COSTLY ERROR -- Jayson Werth's error was one of several events that led to the Nationals' 3-2 loss to the Marlins on Tuesday. [CSNWashington.com ]
A TRADITION LIKE NO OTHER -- I absolutely love the baseball tradition of giving a guy the silent treatment after his first homer in the big leagues. Tuesday's victim was the Angels' Hank Conger. [Press-Enterprise ]
WELCOME HOME -- Padres starter Aaron Harang looked like his old self in a victory over the Giants on Tuesday. In his first season with his hometown Padres, Harang certainly looked comfortable at Petco Park. [San Diego Union-Tribune ]
CALLED SHOT -- Toronto's Yunel Escobar told teammates Carlos Villanueva and Edwin Encarnacion the team would come back to win, even though they were down 5-0 in the middle of Tuesday's game against the A's. After a four-run sixth inning to tie the game, Escobar delivered on his promise with a two-run homer in the 10th to give Toronto the win. [MLB.com ]
NO MINORS FOR LEAKE -- Reds manager Dusty Baker said sending starter Mike Leake was never an option, even though it appeared that Leake made the team out of spring only because of the injuries to Johnny Cueto and Homer Bailey. Baker said Leake was overthrowing in the spring and looked like the guy who started the season 6-1 with a 3.53 ERA in Tuesday's win over the Astros. Leake, the Reds' first-round pick in 2009 made the big league rotation out of spring training last season, bypassing the minors altogether. [Cincinnati Enquirer ]
BELT MAY BE DEMOTED -- When Cody Ross returns to the Giants' lineup, rookie first baseman Brandon Belt could be the odd man out in San Francisco. The Giants say they will base their decision on Belt's play, but sending Belt down would keep the status quo. With Ross back in right field, Aubrey Huff could move back to first. Or if the team decides to keep Belt, Huff would move to left and would make Pat Burrell a bench player. Also, putting Belt in the minors for more than 20 days would keep him from accruing a full year of service time and delay his free agency a year. [FOXSports.com ]
NO FEUD -- Former Met Pedro Feliciano said he was going to strike out Ike Davis when the Yankees face the Mets next month. Davis was uninterested in escalating the "feud."
Davis said it was Feliciano's job to strike him out, and well, last season he struck out 138 times, so "it's not that tough of a feat." [New York Post ]
BANDWAGON ROOM -- Attendance at Yankee Stadium through the first four games of the season is down about 8,000 fans per game. [ESPNNewYork.com ]
YANKS AREN'T ALONE -- As we mentioned the other day, it's not just Yankee Stadium that has its share of empty seats -- Wrigley Field has plenty of seats available, even for the seagulls. [Chicago Sun-Times ]
ON THE OTHER HAND -- Blue Jays fans are excited for their team in Toronto. [Slam! Sports ]
SUNSHINE BALL -- Is there any hope for baseball in Florida past March? [MASNSports.com ]
ROLAIDS ALERT -- The folks over at Big League Stew take a look at the top 10 new concessions at MLB parks this season.
For more baseball news, rumors and analysis, follow @cbssportsmlb on Twitter or subscribe to the RSS feed.