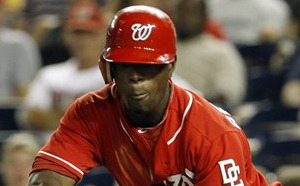 Nationals
manager Jim Riggleman isn't sure who will be his leadoff hitter in 2011, but he's hoping the name comes from outside the organization.
There are several internal candidates such as
Roger Bernadina
,
Ian Desmond
,
Danny Espinosa
and
Nyjer Morgan
, but the Washington skipper sees them as options for the No. 2 spot, not leadoff.
But what if he has no choice but to choose a leadoff hitter from his current list of options?
"The players will make the decision, whether it's Morgan, Espinosa, Bernadina, whoever," Riggleman told MLB.com . "Somebody has to hit up there, and the one that doesn't will hit in the two spot. It's almost interchangeable.
"I think Nyjer can be a real plus for us in that two spot, but that means Desmond doesn't hit in the two spot, Bernadina [and Espinosa don't hit there, either]. It's going to have to work itself out at the end of the year and spring training."
All told, Morgan is likely the best internal option. Although suffering a down season by hitting .257/.317/.319 in 551 plate appearances with 33 stolen bases (and 17 caught), Morgan represents the best blend of on-base percentage and speed for Washington. After all, this is a player that stole 51 bases across two seasons of 2008-09, hitting .304/.363/.385 in full-time duty.
Bernadina (pictured) is receiving extended playing time in the bigs for the first time as a 26-year-old and has amassed 438 PA, hitting .256/.312/.400, stealing 16 bases. Bernadina has the speed and some more power than Morgan, but needs to improve his plate discipline before he can be viewed as a No. 2 hitter. Bernadina could end up the best long-term option, but Morgan should receive the benefit of the doubt for the time being.
Desmond, the starting shortstop and candidate for Rookie of the Year, has thrown up a .278/.316/.408 mark in 544 PA, swiping 16 bases. If Desmond can reclaim some place discipline he lost on the transfer from the minors to majors, he could be an excellent No. 2 hitter. Until then, he belongs in the No. 6 or 7 hole on a postseason-caliber team.
Lastly, Espinosa, in the hunt for the second base job next season, has a .224/.280/.539 line in 82 plate appearances, blasting six home runs. Power aside, Espinosa is struggling with the adjustment to the bigs. The 23-year-old hit .268/.337/.464 across Double- and Triple-A in 542 place appearances, so it doesn't seem like he'll have the bat skills to lead off or even bat No. 2, although he does have 25 stolen bases down on the farm. Espinosa, if he can improve his batting average/OBP and prove his power isn't a fluke, could be the ideal No. 5 hitter.
-- Evan Brunell
For more baseball news, rumors and analysis, follow @cbssportsmlb on Twitter or subscribe to the RSS feed .