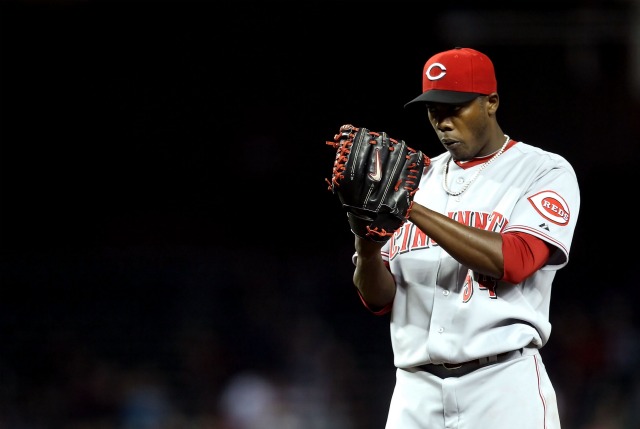 By C. Trent Rosecrans
Could there be something wrong with Aroldis Chapman? Or is he just semi-human?
"We don't know," Dusty Baker told FSN Ohio after the game.
After he walked the first batter he faced on five pitches Wednesday against the Padres, the Reds sent out athletic trainer Paul Lessard and pitching coach Bryan Price to check on him. Chapman stayed in the game, but was then pulled after throwing out Jason Bartlett at third base on Orlando Hudson's sacrifice attempt.
There was no apparent injury, but Chapman's velocity was way down. How far down? His first pitch was 94 mph -- and it was his fastest pitch of the night. The last pitch he threw was clocked at 89 mph. All of nine of his pitches were called "changeups" by MLB.com's Gameday application.
"Chapman wasn't throwing like Chapman," Baker said after the game. "We went out and asked if he was doing OK and he said yes. [Catcher] Ramon [Hernandez] said he thought something was wrong. Chapman said he was OK, which is what they say in Cuban baseball. We took him out because he wasn't throwing like Chapman."
He has shown a tendency to slow down on consecutive nights, but he was also throwing less than 100 in Tuesday night's outing against the Padres. He threw one fastball 98 mph on Wednesday and then everything else was 94 mph or less. Wednesday's outing was his fourth in the last five days.
Before Wednesday's 3-2 loss, Baker said he wasn't worried.
"There's nothing to be alarmed about," Baker told reporters before Wednesday's game (via the Cincinnati Enquirer). "I've been saying the same thing when people want to see him everyday. He's gone three out of four days. If he goes two innings last night, it would have been even worse the second inning. We wouldn't have had him today. And there's a good chance that off day wouldn't help at all."
On Tuesday, Chapman was very good, striking out two in a perfect inning even without his peak velocity. Wednesday he only got one out and was charged with an unearned run. That run was the tying run, which led the to team's 3-2 loss to the Padres.
Maybe there's nothing wrong with Chapman -- who could be seen getting yelled at by Hernandez after a double switch took both out of the game in the eight inning -- and it's just showing his limitations, and perhaps the limitations of the human body. Chapman can throw harder the anyone in the world, but can he do it consistently?
He's already showed a big drop when used back-to-back days, but could he have to be used with even more rest to remain superhuman? That would hurt his chances of becoming the Reds' closer and also raises questions about his ability to start.
Hernandez said he called out Price and Lessard because he thought Chapman looked tired.
"I told him, 'you know what, I know you want to go through it,'" Hernandez said (via the Cincinnati Enquirer). "I understand that You one of the main guys for seventh and eighth. ... if you have something sore, let them know. They'll give you one or two days off. It's better that you take two or three days.'"
"He was mad he came out the game. He's young. He'll learn. It's better to miss two or three days than a month."
I don't think anyone expects him to be pumping out 105 mph fastballs inning after inning as a starter, but the stark decrease in his velocity on Wednesday was certainly alarming.
For more baseball news, rumors and analysis, follow @cbssportsmlb on Twitter or subscribe to the RSS feed.