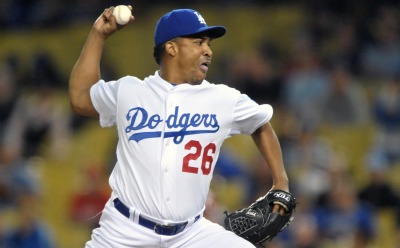 By Evan Brunell
The Toronto Blue Jays are readying for opening day, deploying a lineup in Tuesday's spring-training game that could be the lineup manager John Farrell trots out for his managerial debut, CBSSports.com's Danny Knobler reports.
That lineup is:
CF Rajai Davis
SS Yunel Escobar
DH Jose Bautista
1B Adam Lind
2B Aaron Hill
3B Edwin Encarnacion
LF Travis Snider
RF Juan Rivera
C J.P. Arencibia
The only differences that could occur are Bautista and Encarnacion swapping positions, as EdE isn't expected to play much at the hot corner while that will be Bautista's new home.
Rivera is tabbed for right despite being defensively challenged. Snider is as well, though, and has only 57 games in right to his name in the majors while Rivera has 272. Neither have right field as their primary position but it appears Toronto will have to sacrifice defense given the team's composition.
In other news, Knobler reports that relievers Frank Francisco and Octavio Dotel (pictured) may hit the disabled list to start the year, with GM Alex Anthopoulous believing it is possible neither can be ready in time -- but that's not definite.
Francisco felt discomfort during a bullpen session Saturday in his pectoral muscle, but a MRI came back clean. He is scheduled to see Dr. James Andrews, which makes one immediately think "Tommy John surgery," but the Jays do not expect that type of news. Meanwhile, Dotel's left hamstring injury has kept him out of major-league spring training games for a week, but tossed an inning Tuesday in a minor-league game. The club expects him to be ready, but if not, Jon Rauch will likely function as closer until both return.
For more baseball news, rumors and analysis, follow @cbssportsmlb on Twitter or subscribe to the RSS feed.