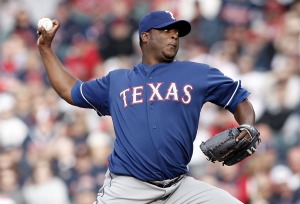 As confirmed by both teams, the
Blue Jays
and
Rangers
have pulled the trigger on a deal that sends catcher/DH/first baseman
Mike Napoli
to Texas in exchange for reliever
Frank Francisco
and cash.
On its surface, it's tough to see what the Rangers' motivation is here. Francisco's presence was going to allow them to give closer
Neftali Feliz
a chance to
test the waters
as a starter. Napoli (who has been a Jay for all of four days after being traded from the
Angels
) seems to duplicate what the Rangers already had -- the arrival of
Adrian Beltre
displaced
Michael Young
, who is going to make $16 million to DH and spell at first and around the infield.
What is Napoli's role? He can catch, but the Rangers already signed
Yorvit Torrealba
as the starter and have
Matt Treanor
as the backup. Napoli apparently will play first in place of
Mitch Moreland
against left-handers and DH when Young is in the field. Napoli, who led the Angels with 26 homers last year, also gives them a power boost. On one level, you could say the Rangers have traded a potentially valuable starter (Feliz) for a backup infielder/DH. Maybe this is a sign the Rangers weren't serious/confident about Feliz as a starter.
It seems like a nice move for the Jays, who not only get the closer they needed (assuming he can beat out
Octavio Dotel
) but save money in the process. Continuing the momentum of his fleecing of the Angels, it's been a nice week for general manager Alex Anthopoulos.
Both players have arbitration hearings pending. Napoli is asking for $6.1 million while the Angels set the team number at $5.3 million. Francisco asked for $4.875 million with the Rangers offering $3.5 million.
-- David Andriesen
For more baseball news, rumors and analysis, follow @cbssportsmlb on Twitter or subscribe to the RSS feed.