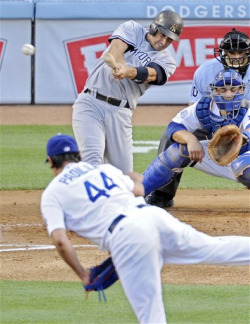 After their 2-1 loss to the
Yankees
on Friday night, the
Dodgers
were left talking not about
CC Sabathia
or
Alex Rodriguez
, but about the bizarre actions of home plate umpire Phil Cuzzi at the end of the game.
As recounted by the
Los Angeles Times'
Dodgers blog,
James Loney
's game-ending strikeout included two apparently bad calls -- the first strike was chest-high, well above the strike zone normally called these days, and the second was below the knees. Loney then was called out on a third strike, ending the game.
Instead of simply walking off the field, Cuzzi walked toward the Dodgers dugout beside Loney, and ejected Loney -- from a game that was already over -- when Loney said something he didn't like. Cuzzi then stopped near the Dodgers dugout, where several people were at this point yelling at him, and began pointing at several Dodgers.
"He had to throw a few other people out," Dodgers manager Joe Torre said. "The startled look that he gave us was surprising, 'How dare you question those calls.'
"I don't complain to umpires, but I thought that was close to embarrassing making those types of calls."
It's unclear who was "ejected" from the (post)game, or what discipline or fines they might face for either the ejections or being openly critical of Cuzzi after the game.
"I don't know what his deal is," Loney said of Cuzzi. "It looked like he was ready to leave or something.
"Why would you even eject somebody when the game is over? It pretty much makes no sense."
-- David Andriesen

For more baseball news, rumors and analysis, follow @cbssportsmlb on Twitter.