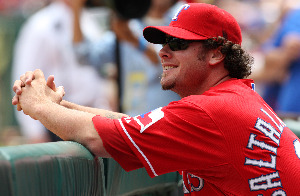 Red Sox
catcher
Jarrod Saltalamacchia
will have surgery to repair ligament damage in his left thumb, according to Twitter posts from multiple reporters with the team in Chicago.
Saltalamacchia will be operated on by Dr. Thomas Graham, who also performed thumb surgery on Boston's
Kevin Youkilis
this season, on Tuesday. Saltalamacchia, acquired in a trade with the
Rangers
at the trade deadline, has appeared in just 12 games for the Red Sox, batting .167. He has a much bigger upside than he's shown in Boston, but will need to get fully recovered to show it.
The operation will repair the UCL joint in his thumb. Tests showed the ligament has partially torn away from the bone. Saltalamacchia said he suffered the injury while playing at Triple-A for the Rangers, something the Red Sox would probably like to have known prior to the trade, but the catcher was trying to play through it.
"I caught a ball wrong, felt some discomfort in my thumb, but wanted to keep playing, so I kept playing," Saltalamacchia told the Providence Journal. "Then I got traded over here and I just wanted to play. I've been having some discomfort off and on, so I kind of admitted some stuff to the training staff and Tito. I told them I still wanted to play, but they felt it was better to just shut it down, see what's wrong with it, make sure it's nothing serious. This offseason is the most important thing, so that's what we decided to do."
Saltalamacchia should be ready for spring training. He'll be in the mix at catcher for the Red Sox, who are up in the air at the position as it's unknown whether
Victor Martinez
and/or
Jason Varitek
will return.
-- David Andriesen
For more baseball news, rumors and analysis, follow @cbssportsmlb on Twitter or subscribe to the RSS feed .