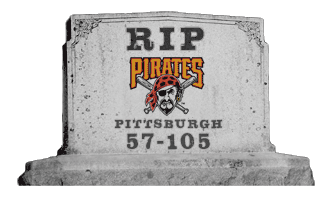 As the sports world waits for the crowning of a champion, 22 other teams are busy preparing for spring training. What went wrong for these teams, and what does 2011 hold? MLB Facts and Rumors here at CBS Sports will be answering those questions through all of October. Now: the Pittsburgh Pirates.
Oh, Pirates. So sad. But hey, you've got one of the best ballparks in Major League Baseball, maybe one day you'll have a real major league team.
WHAT WENT WRONG
Where to start?
Well, let's avoid the debacle that was the
Akinori Iwamura
trade, and go straight to the biggest problem.
The Pirates' starting rotation was
Paul Maholm
,
Zach Duke
,
Jeff Karstens
,
Ross Ohlendorf
and
Charlie Morton
-- each lost at least 10 games. Now, I know we're smart enough here not to judge a pitcher based solely on his W-L record. But all but Ohlendorf had an ERA+ of 83 or lower. That ain't good.
WHAT WENT RIGHT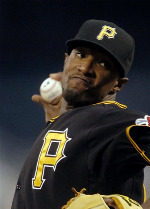 Several young players showed glimpses of being productive big leaguers in the future.
Pedro Alvarez
,
Jose Tabata
and
Neil Walker
(pictured, lower right) join
Andrew McCutchen
as a lineup that can play.
How about the trade of
Octavio Dotel
and cash to the
Dodgers
for right-hander
James McDonald
(pictured, left)? McDonald, 25, started 11 games for the Pirates after the trade and went 4-5 with a 3.52 ERA. McDonald has impressive stuff and is one of the few strikeout pitchers on the roster.
HELP ON THE WAY
Stop me if you've heard this one before, but the Pirates do have some good, young talent. Unfortunately, not much of it is ready for the big leagues.
One of the few that could help soon is Bryan Morris, a 23-year old right-hander who went 6-4 with a 4.25 ERA at Double-A Altoona.
There will certainly be players to watch in the team's minor league system, but it'll be in the lower levels in guys like Jameson Taillon, Stetson Allie and Luis Heredia.
EXPECTATIONS FOR 2011
It's the Pirates, the expectations don't change. There are none besides playing 81 home games.
SUGGESTIONS FOR 2011
Oh, how about this crazy idea. You know that money you get from other teams in revenue sharing? Why not spend it on players? Radical, right?
Now, who do you sign? Right now you go for bargain innings-eaters. Maybe someone like
Kevin Millwood
or
Brad Penny
. They're not great, but they can be had and could stick around a little longer.
It's not like
Carl Crawford
is going to sign in Pittsburgh, but that's not the type of player the Pirates need to target at this point, instead it's filler until the real talent comes along.
2011 PREDICTION
The Pirates will record their 19th consecutive losing season and finish at the bottom of perhaps the weakest division in baseball once again.
Check out the rest of the R.I.P. reports here .
-- C. Trent Rosecrans
For more baseball news, rumors and analysis, follow @cbssportsmlb on Twitter or subscribe to the RSS feed .