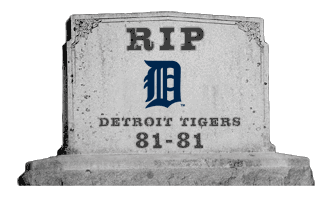 As the sports world waits for the crowning of a champion, 22 other teams are busy preparing for spring training. What went wrong for these teams, and what does 2011 hold? MLB Facts and Rumors here at CBS Sports will be answering those questions in October. Today: our penultimate entry, the Detroit Tigers.
It was a tale of two seasons in the Motor City in 2010: a first half that was better than expected, and a second half that was worse.
Attrition had a lot to do with it, as injuries thinned the ranks and left Triple Crown candidate
Miguel Cabrera
exposed in the lineup. But the Tigers had a lot of young talent step up, and ended up feeling about as good as you can feel when you lead the division midway through the season and end up in third place with a .500 record.
WHAT WENT WRONG
Injuries. Bad ones, to important players, at critical times.
Brandon Inge
broke his hand,
Joel Zumaya
his elbow and, most damaging,
Magglio Ordonez
broke his ankle on a slide into home plate on July 24 and never returned. Plus you had
Carlos Guillen
straining something twice a month and playing just 68 games. The injuries had a domino effect on the team, as roles changed and opponents started being able to pitch around Cabrera.
The offense and bullpen numbers were middle-of-the-pack, but the starting pitching was subpar, 11th in the AL in ERA.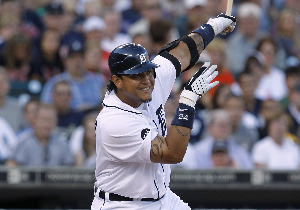 And this should probably more properly fall under what went right, but
Armando Galarraga
's "perfect game that wasn't" on June 2 ended up as more of a gut punch than a highlight. It was a good symbol of the Tigers' season: No matter what they did, the breaks seemed to be against them.
WHAT WENT RIGHT
Cabrera was tremendous, putting up a .328/.420/.622 line with 38 homers and 126 RBIs. His RBI total, on-base percentage and OPS+ of 179 were tops in the AL. If it were possible to do it all yourself, he certainly gave it a try. Ordonez, too, was having a big season, batting .303 before his injury.
Young hitting was in abundance, with two outfielders in the rookie of the year conversation.
Austin Jackson
batted .293, scored 103 runs, hit 34 doubles and play exciting defense.
Brennan Boesch
looked a heck of a lot better in the first half (.342 average) than the second (.163), but showed he's got potential.
On the pitching side,
Justin Verlander
was an 18-game winner and an All-Star,
Max Scherzer
went 12-11 with a 3.50 ERA after arriving last winter from Arizona, and 22-year-old
Rick Porcello
weathered some growing pains and a trip to the minors and won five of his last six decisions.
HELP ON THE WAY
The Tigers farm system is considered thin at the top, but some very good signs arrived from Triple-A Toledo.
Will Rhymes
(pictured, below right) put himself in the picture for the starting job at second base by batting .304 in 54 games, and outfielder
Casper Wells
was tremendous 9.323/.364/.538) in a 36-game audition.
EXPECTATIONS FOR 2011
The Tigers have some good core pieces and a lot of payroll flexibility, and a big part of what went wrong this year can be attributed to injuries. For those reasons, the Tigers are in a good position for 2011.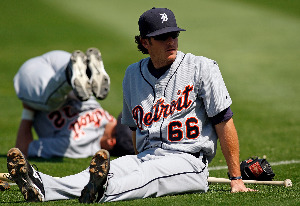 SUGGESTIONS FOR 2011
The Tigers have anywhere from $50 million to $70-plus million coming off the books, depending on how you do the accounting, so they're in good position to address their needs.
The question is, how do they spend that money? They declined Ordonez's pricey option, but could re-sign him for less. That would be a good start, but they could really use another middle-of-the-order threat.
As for the top free-agent bats, they've got room in the outfield for
Carl Crawford
or
Jayson Werth
, but no place for
Adrian Beltre
now that they've made a multi-year offer to Inge (and Beltre is not likely to become a DH). Detroit could be an attractive option for
Adam Dunn
if he softens on his demand not to DH.
The Tigers are happy with the trio of Verlander, Scherzer and Porcello at the top of the rotation, and have said they want to convert
Phil Coke
to starting because they need a left-hander. But a veteran guy like
Aaron Harang
would fit nicely.
2011 PREDICTION
Look for the Tigers to be contenders next year, making for what should be an entertaining three-way battle with the
Twins
and
White Sox
in the Central.
Check out the other
R.I.P. reports here.
-- David Andriesen
For more baseball news, rumors and analysis, follow @cbssportsmlb on Twitter or subscribe to the RSS feed .