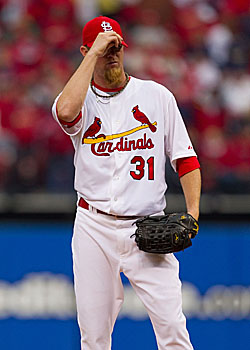 By Matt Snyder
Of the many great opening day pastimes in baseball, one of my favorite is the overreaction police.
Look, we all know there are 162 games in a season and that yesterday's game for each of the 12 teams that played means as much as when they play a game August 17. The flip-side to that is we haven't seen a meaningful game in months, so of course it's fun to try and examine and analyze everything we saw.
No one thinks
Albert Pujols
is going to suck this year because he hit into three double plays in an 0-5 afternoon. No one believes each player who hit a home run yesterday is going to hit 162 bombs this year. In fact, those "pace" jokes are so overplayed it's insane -- "Ryan Braun is on pace for 162 home runs. Sincerely, Stat Dork." Hey guys, 1990 called and wants its joke back.
So let us take a look at some of the things we saw and make sure everyone takes a deep breath and realizes we saw six games yesterday. There are 2,430 in the regular season, but there's absolutely nothing wrong with talking about every single one of them.
CLOSING CONCERNS IN CENTRAL?
Two NL Central teams sent their respective closers out for a save situation in the ninth inning Thursday, and both came away with losses. The outings were quite a bit different. Franklin was only stung by a home run. Blowing a game is never easy to swallow, but when a closer only gives up one crack of the bat, it's a whole different situation than what the
Brewers
'
John Axford
went through. Axford allowed a single and walk to start the inning. He had a three-run lead and two batters in the tying run was digging in with no outs. A bit of a fielding gaffe/unlucky play was followed by a sac-fly and then three-run walk-off bomb. You just can't let the first two runners on like that. It would be easy to start worrying about either closer, but blown saves happen. I do think Franklin is more of a concern because he's old (38) and his ERA already jumped a run and a half last year -- but Axford's outing Thursday was far more problematic.
If fans or fantasy owners of either pitcher want an example of an NL Central closer from recent years who made it through an opening day failure, I've got one.
Kerry Wood
allowed three runs on opening day in 2008. He actually ended up blowing four of his first 14 save chances. The rest of the season he closed down 24 of 26 games.
CLUTCH CAMERON:
Cameron Maybin
has been a disappointment thus far in his early career, but he's still only 23. He surely made a good impression on
Padres
fans Thursday, slugging the game-tying home run with two outs in the bottom of the ninth to dead center field. Then, in the 11th, Maybin followed a
Chase Headley
base hit with a knock of his own. Headley would score on the play due to a pretty embarrassing defensive lapse by John Jay and
Ryan Theriot
. Because of the error, Maybin didn't get an RBI, but he got the two biggest hits in the Padres' victory.

MAYBE PUT HIM ON NEXT YEAR?
Jason Heyward
is now 2-2 with two home runs in his first at-bat of the season.
WICKED WEAVER:
Jered Weaver
seems to be one of the more underappreciated aces in the game. All he did Thursday was throw 6 1/3 shutout innings, striking out six. Sure, he was playing the
Royals
, but it still counts.
HEY, HOW ABOUT JOBA?
The much-maligned
Joba Chamberlain
threw a perfect seventh for the
Yankees
, which was followed by
Rafael Soriano
and
Mariano Rivera
shutting down the
Tigers
. If Joba throws like he's capable, the Yankees' bullpen will be downright filthy.
NO LOVE LOST:
It's no secret
Dodgers
and
Giants
fans generally don't particularly care for each other. One Giants fan even went far enough to hire a banner plane to fly by Dodgers Stadium with the sign "DODGERS STILL SUCK - FROM SF CHAMPS FAN." (
Picture here
, via Big League Stew). The fan was Henry Yu, who said he was sick of hearing all those years about how the San Francisco Giants had never won a championship from Dodgers fans. "This is for all the Giants fans like me," Yu said, "who've taken so much verbal abuse over the years." (
Inside Bay Area
)

DON'T TRUST STATS THIS WEEK:
Fangraphs
warns against it, just as we did yesterday in the chat. Fangraphs crunches lots of numbers, that's what they do and why they're great, but I think we summed it up pretty succinctly in the chat yesterday: Chris Shelton. Tuffy Rhodes.
BOSTON BOOZE:
Fenway Park is moving to expand the sale of mixed alcoholic drinks for
Red Sox
games this season. Representatives are meeting with the licensing board to gain approval, but they'll have to convince the board and local police they will sufficiently monitor sales. Don't stadiums generally make those stadium mixed drinks so weak that it's basically the same as drinking beer? If so, what's the problem? Just don't allow people to order "doubles." (
Boston.com
)
C'MON CURTIS:
Rebecca Black's
Friday
is an Internet hit, and it's sufficiently awful. It's also apparently
Curtis Granderson
's personal at-bat music. (
Yardbarker.com
) There is, of course, the possibility that it was a joke by someone in the organization. Let's hope so. What's next, is someone going to use a Justin Bieber song? This also relates to our opening day chat, as we had the discussion on what the best at-bat songs would be. I went with Stone Cold Steve Austin's theme, but I also think
Welcome to the Jungle
by Guns N' Roses would be solid. No matter what kind of music you prefer, I think we should all agree an early teenage girl telling you Friday comes after Thursday doesn't really fit with adult males playing sports. Right?
AT LEAST CURTIS GETS A CHOICE:
I guess the old-schoolers win this one. The
Cubs
will use organ music for the players, not selected music intros. (
Chicago Tribune
)
POOR PETE:
Legendary
Reds
player Pete Rose looked a bit, shall we say, odd Thursday.
See for yourself
. (With Leather)
JUST LIKE THE MOVIES!
Two high school baseball players in Texas have been booted from their team for allegedly sacrificing a few live chickens in order to break out of slumps. We've heard about the live chicken curse from
Bull Durham
and
Major League
. The best part is some of the quotes. Check this one out from the police: "It appears that superstition relating to a slump in baseball performance could have played a part." Seriously, thanks for the heads up, officer. (
Yardbarker
)
ICHIRO INTO HIS FORTIES:
Check out this article by John Hickey, and it sounds like
Ichiro Suzuki
really wants to play well into his forties. The Japanese star seems to already be safeguarding against age concerns, like saying: "Let's say that I was 20 when I twisted or sprained an ankle. Three years from now when I'm 40 and I twist or sprain my ankle, people will say it's because of age. It's not second-guessing. It's just human nature.'' He also notes he wants to spend his entire career with the
Mariners
. That 3,000 hit (in America) plateau is getting pretty close to being a lock anymore. (
Sportspress Northwest
)
For more baseball news, rumors and analysis, follow @cbssportsmlb on Twitter or subscribe to the RSS feed.