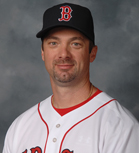 By Evan Brunell
On Friday, the
Red Sox
fired strength and conditioning coach Dave Page, who had been with the team since 2006, along with assistant athletic trainer Greg Barajas.
The move came as such a shock that Page, in an
interview on WEEI
, estimated "90 percent" of the team's roster -- plus others in the game -- reached out to him, with one such player saying "I feel this is all my fault."
Is this the same player that gave up on the season in September with no explanation? Page said there were four Red Sox players that were lax in their conditioning by the time the end of the season rolled around. He refused to name names, but did say that none of the players included
Josh Beckett
. Beckett, who noticeably put pounds on as the year progressed, expressed concern to Page about his weight.
"We got to the end of the year where we had four guys -- without naming names -- we had four guys that we thought didn't make it to that part of the season where we hoped they would be: one position player -- an everyday guy -- one pitcher -- a starting pitcher -- and two bullpen guys," Page said. "For the most part, everybody else had stayed within where we wanted them to be. They were what we expected. Most of them were working."
Except for these four players, of course. And one in particular couldn't explain why he tailed off.
"I did have a good conversation with one player at the end of the year in Baltimore that really kind of opened my eyes," Page said. "I said, 'Hey, what's going on here? It seemed like you pulled the plug a little bit. Why?' He kind of looked down at the ground, looked back and me and said, 'I don't know why. I can't answer that question.' Which was kind of a shock."
Page, who earned the 2007 Strength and Conditioning Coach of the Year award, named Daniel Bard, Rich Hill, David Ortiz, Jonathan Papelbon, Jason Varitek and Kevin Youkilis among those who reached out, according to the Boston Globe.
"Papelbon and Youkilis were less than pleased. I can tell you that," he said.
On WEEI, Page admitted to being taken aback about his firing, especially since it's been over a month since the end of the season. That fact, despite the departures of manager Terry Francona and GM Theo Epstein, led Page to "believe that things weren't going to change, and it really kind of limited my opportunities to move on with another team. It was very surprising."
Page also admitted that support from coaches and the front office were "better in the past," saying he approached coaches and front office personnel on a regular basis to express concerns. He also turned in weekly reports to Francona and the higher-ups, so they were aware of any failings in player conditioning. Page's comments marries up with skipper Terry Francona saying he felt as if the front office wasn't supporting him as much as it had in years past. That leads one to ask why. Perhaps the front office thought this was a team that wasn't going to last and needed wholesale changes. As a result, they weren't as supportive as in the past. That's all speculation, however.
Page also chimed in on the whole fried chicken and beer controversy.
"There was a lot of grumblings but I think that whole chicken-and-beer thing has gotten a lot of unnecessary play, to be honest with you," he said. "I really didn't see chicken in the clubhouse all that often. I'm in and out of there a lot. I rarely saw the chicken. If they were drinking beer it was probably upstairs and I wasn't up there. You'll see the starting pitcher drink a beer when he comes out of the game, that's pretty common. In my opinion, it wasn't as rampant as it's gotten to be made out to be."
Read more about the beer drinking controversy, or check out Eye on Baseball's coverage on Theo Epstein bolting to the Cubs.
For more baseball news, rumors and analysis, follow @EyeonBaseball on Twitter or subscribe to the RSS feed.
Image courtesy
BaseTrainer.com
.