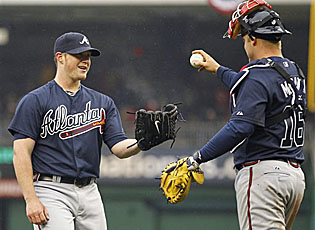 By Matt Snyder
Heading into the season,
Braves
manager Fredi Gonzalez tried to make it clear there was no set closer for his ballclub. If you want to read anything into the Braves' opening day victory over the
Nationals
, however, it would appear
Craig Kimbrel
is the primary, with Venters as the eighth-inning guy.
Jonny Venters
, who is left-handed, was beckoned in the eighth inning to face
Ian Desmond
,
Jayson Werth
and
Ryan Zimmerman
. All three of those hitters are righties. Meanwhile, Kimbrel, a right-hander, pitched the ninth, squaring off against
Adam LaRoche
,
Michael Morse
and
Rick Ankiel
-- two of whom are left-handed.
Both were outstanding. Venters needed only seven pitches to get through the Nats' top three hitters, including their two best. Kimbrel showed how nasty his stuff can be, missing bats and fooling hitters, striking out two and coaxing a fly out.
Now, being that this was only one game, we're required to say there's no reason to think this will happen every single time the Braves in the same situation. But the fact remains that Gonzalez didn't play matchups at all. He isn't stupid. He saw the batters coming up and used Venters in the eighth and Kimbrel in the ninth, ignoring the matchups completely.
The only thing Gonzalez would say about his bullpen after the game was that it was "oustanding" and several other derivatives thereof. There was no discussion specifically of naming a closer or why he didn't play the matchups, but the writing could very well be on the wall.
Both excelled in their respective roles. Crash Davis taught us to never eff with a winning streak. The basic jist? Stick with what works, and it worked pretty well for the Braves' bullpen Thursday. There's a good chance the Venters/Kimbrel order was a harbinger of things to come -- a pretty ominous one for opposing hitters.
For more baseball news, rumors and analysis, follow @cbssportsmlb on Twitter or subscribe to the RSS feed.