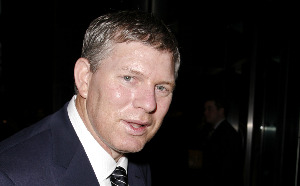 Lenny Dykstra has admitted to using steroids,
according
to the
New York Post
.
"I was like a pioneer for that stuff ... The juice," Dykstra tells Randall Lane, who penned a book about the former MVP's financial troubles.
"I was like the very first to do that. Me and [Jose] Canseco," Dykstra notes. The admission comes in the book The Zeroes: My Misadventures in the Decade Wall Street Went Insane .
Dykstra, admitted the juicing to Lane while watching Roger Clemens testify before Congress in 2008, noting that he started using during his time in Philadelphia. He played five years with the Mets and won a World Series in 1986 before starting his Phillies career in 1989. He put together a .902 OPS for the 1993 team that won the NL pennant. Following that season, he signed a four-year, $24.9 million contract and immediately was beset by injuries.
"At first it wasn't even illegal," Dykstra says of buying performance enhancers. "Then, after a few years, I had to go to a doctor, and get a prescription. You know how I got my stuff? Just walking into a pharmacy, bro. It was as simple as that."
This is all typical Dykstra. Not only does he dope to put together strong seasons on the field, he swindles the Phillies out of $25 million then in his second career as a so-called financial expert, it eventually came to bear that even that career was built on a house of cards.
And now -- when admitting steroid usage suddenly becomes popular and Canseco gets credit for largely being considered the first user -- does he come out and try to snatch away some credit for himself, saying that he was "like the very first."
No one is lauding Canseco for being the first, or even for being the first to spill all the beans -- but at the very least, he's not as disingenuous as one Mr. Lenny Dykstra.
-- Evan Brunell

For more baseball news, rumors and analysis, follow @cbssportsmlb on Twitter.