By C. Trent Rosecrans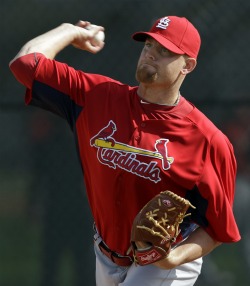 Kyle McClellan appears to be running away with the race for the Cardinals' fifth starter position, but it doesn't seem Tony La Russa is going to declare him -- or anyone -- the winner anytime soon.
McClellan's main competitor, rookie Lance Lynn, has struggled in his last two outings, allowing five hits and four walks in four innings.
"Just because somebody has a tough start … there's still [a competition] here," La Russa said on Saturday, according to the St. Louis Post-Dispatch. "One of the younger guys could live up to his potential earlier than they have to."
McClellan has allowed one run and five hits with four strikeouts and a walk in seven innings this spring. The 26-year-old right-hander has competed for a rotation spot each of the last two years, only to end up in the bullpen.
This time, though, McClellan said a similar move would be different.
"It would be a lot tougher to take," McClellan said.
Still, he added, "Given the situation in front of me right now, I kind of like my chances."
McClellan hasn't started regularly since undergoing Tommy John surgery in 2005. He's started 51 minor league games, but nine since 2007. A ground-ball pitcher (49.7 percent groundballs , he seems well-suited to filling the Cardinals' rotation. He has four pitches and a career 4.12 xFIP. He also pitches better against left-handers than he does right-handers. Lefties have hit .214/.306/.315 against him in his career, while righties have hit .253/.318/.378. He's no Adam Wainwright, but he should be able to fill out the rotation.
Lynn made 29 starts at Triple-A Memphis last season, going 13-10 with a 4.77 ERA in 164 innings.
Others supposedly in the race -- P.J. Walters and Adam Ottavino -- have already been optioned to minor league camp.
For more baseball news, rumors and analysis, follow @cbssportsmlb on Twitter or subscribe to the RSS feed.