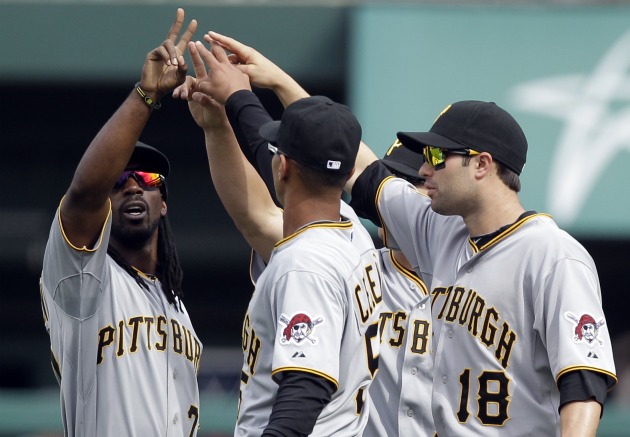 By C. Trent Rosecrans
The
Pirates
are better than you think.
Is Pittsburgh going to challenge for the NL Central crown? No. Are they going to break their streak of losing seasons? Probably not. But they they will be better this season than they have been in many years and in the next couple of seasons, winning baseball in the Steel City may become a reality.
Pittsburgh has taken two of three from the
Cardinals
and
Cubs
to start the season, beating St. Louis 3-1 on Wednesday.
The main reason the Pirates are sitting at 4-2 is they have a legit top of their lineup.
Pittsburgh's top four hitters --
Jose Tabata
,
Neil Walker
,
Andrew McCutchen
and
Lyle Overbay
-- are hitting a combined .356/.434/.621 in the team's first games. Walker and McCutchen each have a pair of homers, with Overbay adding another.
That's not a pace the team can sustain, but McCutchen is on the edge of stardom, while Walker and Tabata are good, emerging players. Overbay is the type of player with better results than reputation. A career .274/.358/.447 hitter, he's unlikely to continue hitting .304/..385/.522, but shouldn't fall too far.
Walker's performance as a rookie last season was overshadowed by an historic first-year class, but he still put up a very good season, hitting .296/.349/.462 with 12 home runs in 110 games for his hometown team. Tabata's prospect status took a hit in the last couple of years, but he too put up solid rookie numbers in 2010, hitting .299/.346/.400 in 102 games.
Add in
Pedro Alvarez
,
Ryan Doumit
and
Garrett Jones
, and there's the making of an effective offense.
As of Wednesday afternoon, the Pirates are hitting .271/.333/.409 with six home runs. With that, the Pirates' starters have a 2.52 ERA through six games. That's unlikely to continue in a rotation of
Kevin Correia
,
Paul Maholm
,
James McDonald
,
Charlie Morton
and
Ross Ohlendorf
they've pitched well, with Correia picking up two wins so far this season and have made the Pirates anything but a pushover early.
Joel Hanrahan
has been the rare closer in the big leagues to convert all of his save chances, recording the save in all four of the PIrates' wins this season.
It should also be noted that all six games have been on the road, where Pittsburgh had an MLB-worst 17-64 record a year ago.
For more baseball news, rumors and analysis, follow @cbssportsmlb on Twitter or subscribe to the RSS feed.