By Evan Brunell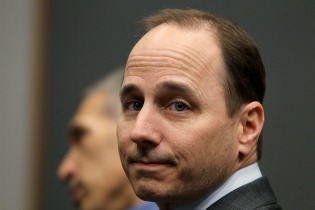 The Yankees are well known for their big free agent splashes, a trend that continues to this day.
However, unlike years past, New York's front office has finally "seen the light" regarding the importance of the amateur draft (which will take place this year on June 6), GM Brian Cashman tells MLB.com. Cashman has long lobbied for the draft to be the focal point of the year for the team but has always butted heads with higher-ups. Now that players like Joba Chamberlain, Phil Hughes, Robinson Cano and David Robertson have borne fruit, the Steinbrenners have realized that the path to success is through the draft. After all, that's how the core of Derek Jeter, Jorge Posada, Mariano Rivera and Bernie Williams got their pinstripes.
"We've made it what it's supposed to be -- the most important day of the year," Cashman said. "Our business is baseball, and that's the most important access to talent. If you want to be championship-caliber, there's a lot of different avenues, but one you cannot skip is the amateur pipeline. That's the foundation of eventual champions."
Unfortunately for Cashman, he was overruled by president Randy Levine and the Steinbrenners in signing relief pitcher
Rafael Soriano
, and in the process the Yankees gave up their No. 31 pick to the
Rays
. Tampa will also pick 38th in the compensation round, but that doesn't mean the Yankees lose a pick. Their next pick is just pushed back a spot, and the
Mets
pick up No. 44 in the compensation round for
Pedro Feliciano
. The Yankees do, however, gain pick No. 51 thanks to the
Marlins
' signing of
Javier Vazquez
, and that's where director of amateur scouting Damon Oppenheimer will make the first selection for the Yanks.
"We're going to have to sit out and wait for a little while," Cashman said. "But it's a deep enough draft where I know Damon feels like we're still going to get access to some quality players."
For more baseball news, rumors and analysis, follow @cbssportsmlb on Twitter or subscribe to the RSS feed.