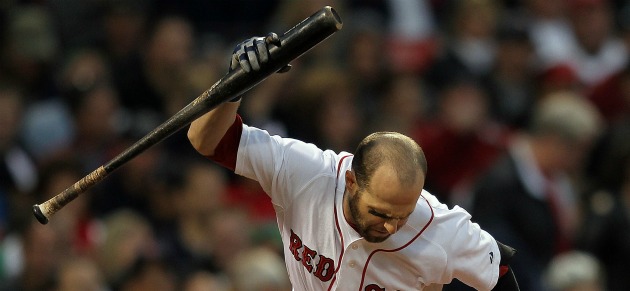 By C. Trent Rosecrans
Tampa Bay won't sweep in Boston, but they could win three of four against the Red Sox and head to New York just two games behind the current American League wild card leaders. With Saturday's 4-3 victory over Boston, the Rays moved to within three games of the Red Sox with a seeming mismatch of David Price against Tim Wakefield on tap for Sunday.
Ben Zobrist's two-run homer in the first set the ton for the Rays, who were able to get to Red Sox starter Jon Lester for four runs on five hits in seven innings.
Jeff Niemann lasted just five innings for the Rays, but gave up only two runs, while rookie Matt Moore -- in just his second big-league appearance -- went three big innings in relief, allowing a run on two hits. Moore, manager Joe Maddon told CBSSports.com senior writer Danny Knobler, may just be the Rays' "wild card" in the wild card race.
Tampa Bay finishes its four-game series in Boston on Sunday before heading to New York for four more games against the Yankees. It should be noted, the Yankees' lead over the Red Sox is just 4.5 games, so things could get interesting in that race as well, if the Rays continue to play tormentor against the AL East powers.

The Angels' already slim chances seemed to be dashed with another loss in Baltimore.
Boston Red Sox
87-64
Remaining schedule: 1 vs. TB, 4 vs. BAL, 3 @ NYY, 3 @ BAL
Coolstandings.com expectancy of wild card: 85.8 percent
Tampa Bay Rays
84-67, 3 GB
Remaining schedule: 1 @ BOS, 4 @ NYY, 3 vs. TOR, 3 vs. NYY
Coolstandings.com expectancy of wild card: 5.1 percent
Los Angeles
Angels
of Anaheim
82-69, 5 GB
Remaining schedule: 1 @ BAL, 4 @ TOR, 3 vs. OAK, 3 vs. TEX
Coolstandings.com expectancy of wild card: 0.6 percent
For more baseball news, rumors and analysis, follow @eyeonbaseball on Twitter or subscribe to the RSS feed.